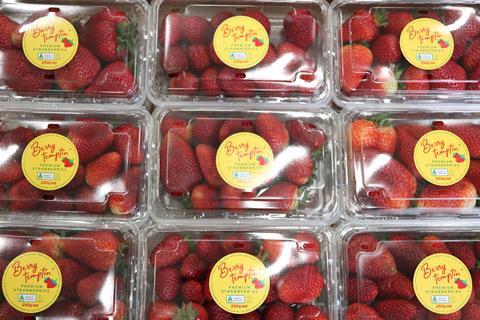 The South Australian strawberry season has officially launched, with the first tray of freshly picked punnets fetching a mouth-watering A$20,000 in auction.
Independent retailer Romeo's Retail Group bid highest for the second year in a row, with the funds to be donated to Variety SA, a charity working with sick, disadvantaged and special needs children.
The idea to promote the start of South Australia's strawberry season with an auction, mirroring Queensland's mango auction, began last year following the needle contamination scandal.
In 2018, Romeo's Retail Group paid A$17,500 for the first tray of South Australian strawberries in a show of support to local producers.
Managing director of Ceravolo Orchards, Tony Ceravolo, said launching the season is a positive move: "It's a good thing for South Australians to know that the season has started.
"There can be a lot of confusion about where the fruit comes from. We get a lot of strawberries from Western Australia and Queensland, and as those seasons are beginning to slow down, South Australia's is just starting," said Ceravolo.
"I think South Australian strawberries are sweeter because of our growing conditions. We have nice warm days and cold nights. This season the weather has been a bit up and down, but that's what growing is all about," he noted.
All signs are pointing to a positive season ahead, provided the weather remains as is.
"It's going to be a good season. I think we'll have a more consistent season with sweetness. To me that's important, there are too many strawberries on the market that are bland with no flavour," highlighted Ceravolo.
That sentiment is echoed by fellow South Australian producer Brian Parker, of A.F. Parker & Sons.
Regarding consumer confidence, Parker said he believed the fruit will sell itself.
"I think as long as we always give consumers a good product, we'll be fine," said Parker.
"One of the problems we face is that there are too many new players in the game that don't provide a good product.
"There are two ways of selling fruit: The product will sell itself, or you sell by the price – if it's the latter, then clearly you have a problem with your product," he added.
Strawberries grown in South Australia will reach markets in Brisbane, Sydney, Melbourne and Perth before the end of the year.