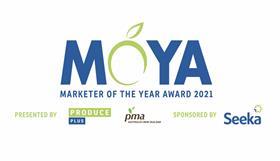 Have you seen a great example of fresh produce or floral marketing? Don't miss your chance to nominate that campaign – and the talent behind it – for the 2021 PMA-Produce Plus Marketer of the Year Award (MOYA), sponsored by Seeka.
With entries closing on 23 April, now is the perfect time to nominate any individual or marketing team who has achieved marketing excellence over the last 12 months, no matter which part of the value chain they represent.
"Despite the challenges and disruptions 2020 presented, the fresh produce category has continued to grow here in Australasia, and that's in no small part thanks to marketing innovation," said Matthew Jones, editor of Produce Plus Magazine.
"Whether you've pivoted an existing marketing campaign online or developed a new one from scratch, MOYA is about celebrating the crucial role marketing plays in unlocking added value for the category."
MOYA is judged on each marketer's ability to develop and execute a highly visible, effective campaign.
Five finalists will be selected from the field of entries, with the winner to be presented at the Hort Connections conference and trade show in Brisbane on 7-9 June 2021.
PMA Australia-New Zealand (PMA A-NZ) and Produce Plus Magazine are pleased to have Seeka onboard as the sponsor of MOYA in 2021.
A diversified horticulture business with operations in both Australia and New Zealand, Seeka recognises the important role marketing plays within the fresh produce industry.
"This award has recognised produce marketing innovation and excellence through the year across Australia and New Zealand, and it's our privilege to celebrate those achievements again in 2021," said Seeka chief executive Michael Franks.
"The efforts of the whole produce supply chain, from growing to customer, are reflected through the presentation of our produce. This award really celebrates the achievements of the marketers in presenting our produce to the consumers for purchase. Our compliments to all those who put themselves forward for the award and it's our pleasure to support MOYA this year."
Self-nominations and nominations by third parties are welcome and must be received by 23 April 2021.
Entry forms are available from https://www.pma.com/global-pma/anz/news/2021/Moya-submit-an-entry
For more information on MOYA, please contact:
Matthew Jones
Produce Plus Magazine