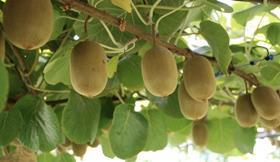 Australasian fresh produce company Seeka has entered into a conditional sale and lease back of three of its Australian-owned kiwifruit orchards.
Located at Bunbartha in Victoria's Goulburn Valley, the Austral, Lakes and Hayward orchards will be sold for A$26.5m.
The sale is subject to the approval of Australia's Foreign Investment Review Board, with a lease back for up to 30 years, with two initial terms of ten years followed by two terms of five years.
Seeka had indicated to shareholders that it was considering the sale and lease back of "some or all" of its orchard portfolio in Australia in August last year.
In a release issued today (20 May), Seeka chief executive Michael Franks advised that the company was satisfied with the sale.
"The transaction introduces a new partner to the company and releases cash for debt reduction and to complete further developments," the release said.
"The sale by Seeka follows its strategy to investigate selling the orchards and leasing back, with the proceeds to be used to repay debt and accelerate further kiwifruit orchard developments in Australia. The properties had been widely advertised publicly in Australia earlier in 2019."
Impact of Covid-19
Seeka has continued to operate as an essential business throughout the Covid-19 containment period.
With the kiwifruit harvests across New Zealand and Australia drawing to a close over the next two weeks, the company reflected on what has shaped up as a challenging season.
"The effects and costs associated with Covid-19 have been significant together with very dry growing conditions in New Zealand and Australia lowering crop volumes," the release added.
"SunGold volumes, whilst ahead of 2019, are behind expectation and Hayward [green] volumes are expected to be below last year and expectations. This being the second year of lower yields and volumes for Hayward in New Zealand."
Earnings guidance
Having considered its current year performance and anticipating the completion of its divestment transactions, Seeka expects earnings before tax to be in the range between NZD$9m–NZ$11.0m for the full 2020 financial year, compared to NZD$9.8m in the previous corresponding period.
The company said operational earnings are expected to be significantly lower than initially expected, through lower margins, additional costs and lower volumes in the current year.