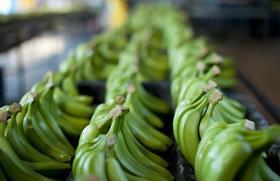 Australian supermarket chain Coles has teamed up with Northern Ireland's Amargh-based refrigeration company, Cross Refrigeration, to install 60 new ripening rooms across Melbourne, Victoria.
According to Armagh I, the design, manufacture and installation of the ripening rooms will be completed by construction firm Qanstruct, and will be used to ripen bananas and avocados.
The contract is estimated to be worth over £7m (A$13.94m), and was made possible by£200,000 (A$398,330) of R&D funding provided by Invest Northern Ireland, which assisted Cross Refrigeration in developing its technology.
Invest Northern Ireland's chief executive, Kevin Holland, praised Cross Refrigeration as an "innovative company at the forefront of novel technology for global banana ripening."
"This monumental deal is testament to the company's hard work and determination to grow its business. Its focus on R&D ensures that it remains competitive," said Holland.
Armargh I reported exports from Northern Ireland to Australia are valued at £249million (A$495m) annually.
Andrew Nesbitt, managing director of Cross Refrigeration added that Australia is a market that offers major opportunities for its business.
"Over the last six years, Invest NI's support and expert advice helped us to develop our ripening facility, bring it to market and secure this deal with Coles Supermarkets," said Nesbitt.
"We have visited the market multiple times to build a relationship with numerous contacts and with Invest NI support have hired two staff to oversee the management of our exports in the market. Looking ahead, we now have an established footprint in the Australian market and we are optimistic we will see further growth," he added.