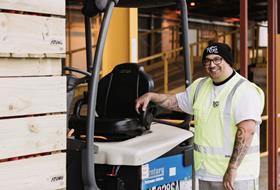 T&G Global and New Zealand's Lincoln Universityare offering students a pathway into the horticulture industry.
A two-year programme will see students earning a fulltime wage while gaining practical work experience, as they study towards a Level 5 Diploma of Horticulture from the university.
Craig Betty, director of operations at T&G Global, said the partnership is the first of its kind in New Zealand.
"We're incredibly proud to be partnering with Lincoln University to enable students to earn while they learn – making obtaining a qualification, practical experience and a long-term career pathway more attainable and appealing within our industry," said Betty.
"As T&G continues to expand its apples business to meet global demand it's crucial the business has skilled and passionate team members to be the future leaders of our industry."Dean of the Faculty of Agribusiness and Commerce at Lincoln University, Professor Hugh Bigsby, says the collaboration with T&G is a new innovation in education, immersing university education within a leading New Zealand business.
The programme offers students a combination of online and face-to-face learning. It is aimed at high school leavers interested in furthering their studies in the Hawke's Bay. There are also opportunity for students in Northland and Nelson.
T&G will provide paid study days to help students with the academic components of the diploma.
"As the Southern Hemisphere's oldest agricultural university, Lincoln University has provided education for the food and fibre sector since 1878," said Hugh Bigsby, dean of the Faculty of Agribusiness and Commerce at Lincoln University.
"Given horticulture is a key part of the Hawke's Bay economy, gaining experience first-hand in this environment will provide students with valuable skills and experience to accompany their academic qualifications.
"This unique partnership with T&G will enable students to be immersed in work and education at the same time, earning while they learn and taking their learnings straight into the workplace."
Theprogramme's first cohort has 30 places starting in January 2022.