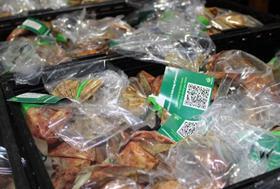 A multi-purpose trial to identify potato and cherry properties in Woolworths' supply chain using GS1 Global Location Numbers is underway with the support of FreshChain technology.
The pilot will test enhanced traceability functionality at an item and crate level to instantly track back to the farm origin and track forward to retail destinations using serialised and unique GS1 Digital Link QR codes.
FreshChain sensors will accompany the product through the supply chain to deliver insights on key quality metrics such as temperature, light, humidity, movement and shock in real time through transit and the chain of custody ownership.

Digital on-pack storytelling will look to engage customers with information on product quality, value of the content and other information such as recipes.
The trial will also include functionality which allows for consumers to be alerted in case of an incident in real-time by scanning the QR code on pack.

The project is a collaboration between New South Wales department of primary industries (DPI), Food Agility CRC, Woolworths Group, GS1 Australia, the Mitolo Family, Cantrill Organics and FreshChain Systems.
Jessica Fearnley, the NSW DPI and overall project leader, said, "A key objective of the trial was to assess the ability to instantly identify properties in NSW through a central repository in the event of a biosecurity threat such as bushfires and deploy resources where they are needed.
"We are all too aware that these threats remain and it is critical that we work toward a more centralised approach for identification,
containment and support deployment," added Fearnley.
Mel Wishart, lead for GS1 Australia, said she was keen to show how using GS1 standards in data collection and transfer can better support rapid property identification and item level product traceability in the event of a biosecurity threat or critical food incident.
"The key is using a standards-based approach so all systems in the supply chain, no matter the source language, can gather data, link the data, interpret the data and act on that information."

Woolworths' project lead, Noelene De Villiers, said she was excited about the opportunity to work with industry to learn more about end-to-end traceability and how it can support the customer experience.
"The project participants bring together diverse capabilities, to help build a more transparent supply chain together and engage customers in a new way with on-pack digital storytelling. It is also a great opportunity to partner with our farmers and help educate customers about the provenance of the products they put in their shopping basket," said De Villiers.
Director of FreshChain Systems, Greg Calvert, welcomed the opportunity to provide the digital traceability solution and advanced quality control sensors for the project.
"We will continue to see further benefits of digital transformation and that is an exciting prospect for speed, accuracy and data access. More relevant data, linked to create valuable insights and enhanced visibility, will support all partners in the supply chain. For consumers, this is the next best thing to being on-farm."