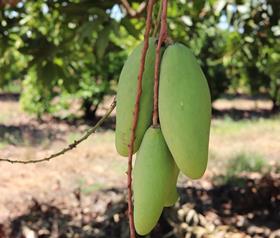 The viability of producing early-season green mangoes is under consideration from a number of growers in Australia's Northern Territory, after figures released by the Department of Agriculture indicated Vietnamese mango imports doubled year-on-year.
In the first six months of 2020, a total 124 tonnes of Vietnamese mangoes were imported into Australia, an increase of 51 tonnes during the same period last year.
According to a report by ABC Rural, this has prompted growers across the country's Top End to reconsider whether it's worth spending the money and effort it takes to get their trees to fruit early, in order to get green mangoes to market by April or May.
Berry Springs mango grower Wayne Quach told ABC Rural the competition from Vietnamese mangoes had a big impact on his and other farmers' bottom line.
'The price dropped around 40 per cent,' he said. 'Normally we get around about A$80 per tray, but this year we got around A$50.'
Quach highlighted the high risk and high outputs needed to grow early mangoes, and the increased competition from imports, as key factors behind some farmers' decision to reconsider their plans.
'I have spoken with other [farmers] who said: 'We might not grow any April or May mangoes, because if the market hits us with the [Vietnamese] competition we might as well go later and take less risk',' he said.
Quach said most of the imported green mangoes were being sold to restaurants, not supermarkets, where they were used in South-East Asian cuisine.
According to the report, the current price for green mangoes had improved as imports slowed down, with 10-kilogram boxes of Nam Doc Mais from Darwin selling recently in Sydney markets for up to A$140 each.