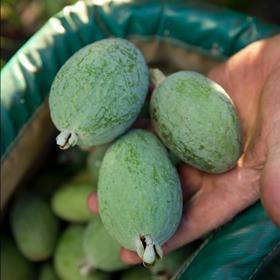 The Southern Forests region in Western Australia
Consumers are set to enjoy the "zingy, sweet and sour contrast" offered by Australian-grown feijoa, as harvest gets underway in the Western Australia region of Southern Forests.
Despite a short eight-week season, growers are anticipating a haul of 50 tonnes of fruit this year, with that volume set to increase significantly in years to come as trees reach maturity.
The Southern Forests Food Council and its growers are collaborating across the produce supply chain to ensure feijoas are available from supermarket shelves to restaurant dishes, juices, ice-cream, and even micro-breweries and ciders.
"Consumers are always looking for something new, fresh and local to try, well here it is – Genuinely Southern Forests feijoas," said Jennifer Riseley, Southern Forests Food Council project and marketing coordinator.
"Our growers have done the hard yards in making sure they can grow a premium tasting feijoa, now we need to educate people on what they are and get them into every lunchbox, fruit bowl, and restaurant," said Riseley.
"With some orchards up to 30 years old, they've learnt a thing or two about growing the tastiest feijoas in WA."