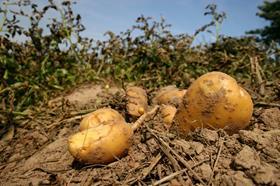 Severe storms have caused significant damage to potato crops in Ballarat, Victoria affecting the vast majority of growers in the region.
According to a report from the ABC, wild weather brought up to 200ml of rain and hail, damaging a crop Chris Stephens, chairman of the Ballarat Potato Growers Association, said was already delayed by a wet and cold summer.
'The storm pretty much went from one end of the district to the other …it's estimated that 90 to 95 per cent of the growers and crops were affected by the storm,' Stephens said.
'The hail damage is just horrendous, some crops have just been completely stripped of all their foliage. The hail was marble-sized and it continued for over half an hour in some places.'
Victorian Farmers Federation horticulture vice president Katherine Myers, said although some farms had fared better than others, almost none had escaped unscathed.
"The stuff that's severely hail-damaged might be 100ha," Myers told The Weekly Times.
"Then there are potato crops set back with mild to moderate damage, but we don't know how it will affect their yields yet; there may be a reduction in yield of between 20 and 50 per cent.
"Even farms that have had lower rain damage, there's going to be a very significant leeching of fertiliser."