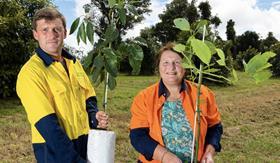 Red Plateau Organic Produce and Bon Accord Organic Citrus are the latest fresh produce companies to benefit from the Woolworths Organic Growth Fund.
The pair have received a combined A$850,000as part of the initiative's fourth funding round, according to a release from Ausveg.
Based in Comboyne, New South Wales, Red Plateau Organic Produce suffered damage in a 2019 firestorm, which burnt a number of the company's avocado trees.
A A$500,000 grant from the Woolworths Organic Growth Fund will help the business rebuild, ensuring water security for the future. It will also fund a new coolroom and a cherry picker for harvesting.
"We want to restore our farm to its former glory and will replant and expand with more avocados," said Red Plateau founder Sandra Fishwick.
"We have worked hard to make sure that what we have developed will continue for the next generation. Thanks to the grant from Woolworths we will be able to move forward and rebuild at a faster pace."
Gayndah-based Bon Accord Organic Citrus will use its A$350,000 grant to bolster its shift to organic production.
Bon Accord's Will and Anna McLay began producing conventional citrus in 2016. After moving into organics last year, the McLays are looking to expand their organic orchard and invest in new equipment to better meet the unique demands of organic growing.
"Consumers are looking for food that is grown in a healthy, sustainable way without chemicals. We believe there is a real opportunity to grow that market," Will McLay said.
The grants also mark the beginning of new partnerships between Woolworths and the growers, which will see their produce stocked in stores.
Established in 2018 in partnership with Heritage Bank, the A$30m Woolworths Organic Growth Fund aims to assist fruit and vegetable growers to start the journey to organic farming or grow existing organic production.