Chiquita is launching a new campaign in Germany called Go Out & Play that it says will drive sales of its bananas among younger consumers around the Uefa European Championship, which kicks off in France on 10 June.
The campaign, which will run from mid-May to the end of July, will see the marketer provide supermarket and hypermarket customers with extensive promotional support.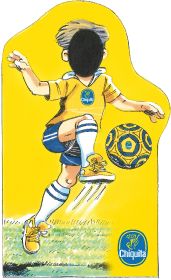 Activities will include print, billboard and digital advertising, special stickers on its bananas, new in-store signage and displays, and even a life-size cut-out of a Chiquita-branded footballer (pictured left) for kids to stick their head through and have their photo taken.
Consumers will also be able to enter an online competition, with the chance to win a week's holiday to the Nickelodeon resort in the Dominican Republic, footballs and other outdoor equipment.
This summer, Chiquita is also running a major, multi-channel marketing campaign across the whole of Europe in conjunction with Nickelodeon, the children's television channel.
Much of the focus of this campaign will be on summer camps called PlayDays in a number of European markets including Germany and the Netherlands, as well as a dedicated mobile app called Just Smile.