Madrid's Museum del Prado provided the historic backdrop for a showcase of fine Spanish foods organised by Spanish Association of Denominations of Origin, Origen España, this week.
Oranges bearing the Cítricos Valencianos PGI label were one of several Protected Designation of Origin (PDO) and Protected Geographical Indication (PGI) products on display at the famous gallery in the Spanish capital.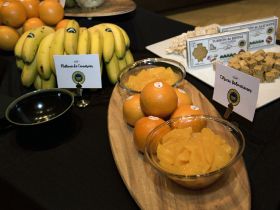 The purpose of the 'Historias en tu mesa' (Stories on your table) campaign was to discover works of art featuring some of the most recognised products in Spanish cuisine.
The painting chosen to represent the Cítricos Valencianos PGI was an 18th century still life by Luis Egidio Meléndez featuring oranges, melons and boxes of pastries.
"Origen España is a magnificent platform that allows us to enhance our identity and differentiates us from our competitors, "said José Enrique Sanz, managing director of PGI Cítricos Valencianos.
"This promotion is a brilliant way of explaining the meaning and value behind PGIs and PDOs, and the history that lies behind each product."