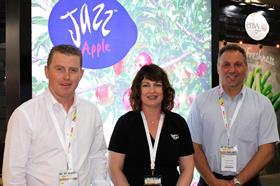 Milestones have lined the past year for New Zealand-headquartered T&G Global.
From a rebrand of its integrated businesses to an office opening in Thailand, a collaboration announced with Zespri for South East Asian markets, and a new appointment in North America for its pipfruit business, not to mention leading Chinese importer Golden Wing Mau buying a 19.99 per cent stake in the business, it's been a busy 12 months.
Sitting down with Fruitnet at Asia Fruit Logistica in Hong Kong on 8 September, CEO Alastair Hulbert, executive general manager of pipfruit Darren Drury and executive general manager international Sarah McCormack outlined the key developments and new growth opportunities for the company, from South East Asia to North America.
Drury explained that over the past few years the focus has been on getting the New Zealand business in shape, with the integration of the Apollo apple business acquired in 2014, the Delica trading business and the Enza business, now all sitting under the T&G Global banner.
Now, T&G's looking to set up support systems for its global network, establishing its North American pipfruit office in Wenatchee, Washington State, and appointing Joe Barsi as president in August, with additional staff to be brought on board in the coming six months.
It's also changed the sales arrangements for its North American business, adding CMI and Rainier as US sales agents along with existing partner the Oppenheimer Group (Oppy).
"There's been a huge ground swell of support for Envy plantings and we've got Jazz plantings at just about the right number," Drury said. "Envy is where the growth is coming from, and that's the purpose in setting up our office in Wenatchee and appointing Joe to this role – to build the support structure to ensure this is a success."
"This goes hand-in-hand with what we're doing in Asia – getting closer to the market place," added Hulbert. "So we're not doing the selling – Oppy, Rainer and CMI will be handling that – we are getting closer to the retailer and to consumers."
Around one-third of T&G's US apple production will be exported, with the 2016 forecast sitting at 2.5m cartons, expected to grow to 7.5m to 8m within three years.
New Zealand accounts for 40 per cent of T&G's Jazz production globally, followed by the US and France with production growing about 7 per cent year-on-year. Envy production is projected to grow more rapidly, at about 25 to 30 per cent year-on-year.
But in the increasingly crowded global apple market, how is T&G competing with other apple brands?
"We're putting a lot of margin into the underlying aspects like production, storage, quality and innovation and the technical aspects," Hulbert said. "If we're going to grow this apple so quickly in volume, we've got to deliver with consistent, high-quality fruit.
"There's going to be a lot of work going on behind the scenes with our technical teams and growers, to make sure we keep getting that consistent product to customers."
"The key to success for T&G and its suppliers is delivering consistent fruit quality, and that feedback is consistent from both retailers and consumers alike," added Drury.
Adding offices in Asia
Last year, T&G opened its office in Shanghai, China, led by Ignacio Smith, and is now looking to work on promotional activities in-market.
"We believe Jazz has great potential in China, as it is a different product to what is typically consumed in this market; it is a beautifully balanced eating experience with its sweet/sour taste profile being complemented with its crunchy and dense texture. Our strategy is to partner with influential retailers and do more work on promotions, particularly in-store sampling," Drury said. "We're making good progress on that year-on-year and are excited at the opportunity to continue introducing this unique apple to Chinese consumers.
"Envy has been a runaway success in the Chinese market and we sense real excitement from our retail and wholesale partners at its potential. It is a very sweet apple, the texture is nice for Chinese consumers, it's big and it's red, and while there are other good products out there, this one ticks all the boxes.
"We're very fortunate to have this apple in our portfolio – it's a superstar."
T&G also sees plenty of growth opportunities in Japan, particularly with the market opening up to new products and has just opened an office in Tokyo. Additional staff in marketing, QC and account management roles will join Tokyo-based representative Tatsuya Kakemoto, who's been with T&G (formerly Delica) for seven years.
"It made sense for us to take the next step and open an office," McCormack said. "We'd like to do more business in West and Northern Japan, and having people there will allow us to focus on that more."
Japan is T&G's largest overall market for categories beyond pipfruit. McCormack said having people on the ground has meant T&G was able to "hit the ground running" once protocols were established for Australian grapes, Peruvian citrus and avocados. But they also see room to grow the apple import market in Japan.
"For apples, we see Japan as one of the best opportunities for our industry, it's just a matter of managing the [phytosanitary] protocols," added Drury. "From a consumer market perspective, there are good prospects."
The full interview with T&G Global appears in the October edition of Asiafruit, out soon.