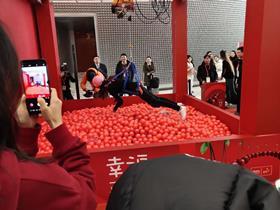 Imports of fresh produce in China and other Asian markets have grown considerably in the last decade, but new opportunities are still ripe for the picking — provided you have the right access to markets, supply chain knowledge and products in place.
China remains the potential jewel in the crown for many fresh produce growers and exporters around the world. Imports continue to build and in the latest year, these reached 350,000 tonnes for oranges, 200,000 tonnes for grapes, 70,000 tonnes for apples, 50,000 tonnes for soft citrus, 20,000 tonnes for peaches and nectarines and 40,000 tonnes for grapefruit.
From the work Promar International has been involved with over the last ten years or so, it is clear that many countries – including many in Latin America, the US (once the current trade dispute is resolved), South Africa, Australia and Europe – aspire to supply the potentially lucrative Chinese market. In a number of cases however, the lack of formal access to the market via trade agreements remains a huge challenge.
Some have made it big though. The Chilean cherry export business is now driven totally by demand from China, which accounts for almost 90 per cent of Chilean exports in this category – around 160,000 tonnes per annum. The Chilean export body, Asoex, and the Chilean Cherry Committee have been quick to respond to this demand, launching a series of well-funded promotional activities over the last three or four years.
The interest in securing business with China goes some way to explaining the myriad trade agreements that Latin America in particular has, or is looking to, develop in order to ease some of the tariff and non-tariff barriers that their produce exporters still face.
These economic, diplomatic and trade deals are all designed to encourage greater levels of foreign direct investment, as well as just trade. This suggests we should probably stand by for greater levels of Chinese investment in the Latin American fruit sector in the future, in the same way that we have seen in the Oceania dairy industry over the last five years.
The latest initiative is the hugely ambitious "Belt and Road" project, designed to enhance the physical infrastructure between China, Latin America and parts of Eastern Europe, with total investments estimated to be worth US$1 trillion. For countries such as Chile, Brazil and Peru, China has become their leading trading partner at the expense of the US and Europe.
This is no coincidence, and it hasn't happened, as sometimes thought, overnight. Brazil, as an example, established its first economic and diplomatic links with China in the early 1990s. Chile has had a diplomatic initiative in place with China since the 1970s and signed a free trade agreement with the Asian giant in 2005. Peru secured a FTA with China in 2010. Uruguay has had formal diplomatic and economic links to China for some 30 years and has in place a Memorandum of Understanding to secure a FTA in the future.
Latin America has got the free trade bug for sure. This includes the Mercosur group of Argentina, Brazil, Paraguay and Uruguay, as well as the Pacific Alliance of Chile, Mexico, Colombia and Peru and finally a deep involvement in the Comprehensive and Progressive Agreement for Trans Pacific Partnership (the TP – 11).
This links the Latin American and Canadian economies with South East Asia and Oceania. Mexico, Peru and Chile are all leading players in this – and it will undoubtedly help to underpin produce exports, across and between, regions.
Across the rest of South East Asia however, there are a plethora of other markets that also present opportunities for international produce groups, such as Indonesia, Malaysia, the Philippines, Vietnam, Thailand, South Korea, Taiwan, Cambodia and even countries such as Myanmar.
Working out which market to go to first, and why, can be a major challenge. It is an area where Promar has helped a number of clients in the past. Again, the issue of tariff and non-tariff barriers is essential to understand, as well as a knowledge of how these markets operate and what potential they offer.
So, what makes for a successful export business in to China, and indeed probably the rest of South East Asia too? It comes down to four key factors:
Having good quality fruit: these are not markets for Class II or substandard produce. They want the best.
Having good tariff access and a deep understanding of non-tariff barriers and how these can impact on the business.
Having trusted trading partners and a clear understanding of how the market is developing and how it might look in the future.
Having the time, resources and determination to make it work (and you really must want it to work) in the mid- to long-term: again, these are not markets for the short-termers or "in and outers".
This, of course, makes it sound relatively easy. It's not, as many have found out in the last decade or so. With the right combination, however, of data, insight, good products, and market and supply chain understanding, China and many other markets in South East Asia still look ripe for further development –- and should be very much part of the export plan for any serious produce sector player. And those all-important trade deals are very much part of this.