Panel of global suppliers underlines commitment to Asian markets amid impacts of shipping turmoil, inflation and lockdowns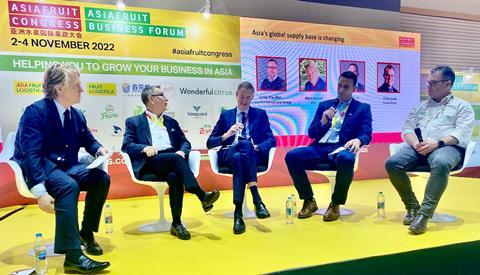 While Asia remains the world's fastest growing market for fresh fruit imports, key global suppliers have faced unprecedented challenges shipping to the region over the past two years amid widespread logistics disruption.
That was one of the big talking points in the session 'Asia's global supply base is changing' at Asiafruit Congress 2022. The lively panel discussion – hosted by Fruitnet MD Chris White – featured a line-up of expert speakers, including Vanguard International CEO Craig Stauffer, BFV's Marc Evrard, South African Table Grape Industry CEO AJ Griesel and Elliot Jones of Costa Group.
Stauffer said the past 18-24 months had been "really rocky" for shipping to Asia although he noted the situation is "slowly improving".
"Whether it's out of Chile, Peru, South Africa or the US, we've had a lot of services just completely eliminated. And that has created a lot of challenges just to get our product to market, not to mention the transit delays – there's been absolutely no ETA integrity."
Turning to exporting from Europe, Marc Evrard of Belgian cooperative BFV said the industry was also facing multiple challenges with logistics.
"Fourteen years ago, we had a transit time from Antwerp to Hong Kong of around 18 days. Since then, the shipping lines have tripled the transit times, but they've also tripled the rates," said Evrard.
"Even after a shipment has been confirmed, we can be facing an additional delay of eight days before it gets loaded. Then after that, we're confronted with further delays, congestion and additional costs on arrival. So the services have gone down drastically, but the price has gone up, and that's before even talking about the issues we've faced with lockdowns in markets and so on."
BFV has a diverse spread of global markets, which has helped it mitigate the impacts. While continuing to invest in Asia, it has also been developing markets in the Americas and neighbouring countries in Europe, Evrard noted.
Inflation impacts?
On top of the shipping turmoil over the past year or two, global suppliers have been grappling with rising costs, from fuel and fertiliser to labour and logistics, and the industry is now bracing for the impact of inflation on consumer demand.
"I think the effect of inflation is something we don't fully understand yet in terms of the impact on fresh produce consumption worldwide," said Griesel.
Addressing the situation for Australian exports, Jones said the rising cost of inputs had been compounded by the La Niña weather cycle, which had created a need to use more fertilisers, fuel and sprays.
"I think the main impact of that has been over the past six months, and this big inflationary creep the industry is dealing with hasn't flowed through to the market yet in terms of prices. That's one of the bigger challenges working out what the market can absorb."
Diversifying production
While global supply chain disruption and trade challenges have underlined the importance of market diversification, Evrard pointed out that "diversification of production" was also key for growers.
Acknowledging that growers will naturally increase their production of a particular variety after a few years of strong sales, he highlighted the pitfalls of continuing to expand production on the assumption that highly populous markets such as China will absorb the growing volumes.
"In the case of Conference pears, we lost one market in Russia, but growers keep on producing more thinking the problem will solve itself eventually," he said. "In Belgium, we continue to invest in developing our markets in Asia and around the world but being able to manage production is something that cannot be neglected."
Reconnecting and redeveloping
Despite the host of challenges, the panel of global suppliers reaffirmed their commitment to growing sales in Asia. And they noted that ability to visit customers and meet face to face again was key to market development.
"Relationships with customers are critical and everybody was getting sick of the breakdown in the way we engage," said Jones. "We probably didn't want to believe it, but we were starting to drift apart. It's very important to meet face to face and to do that as often as possible".
Evrard agreed. "Over the last few years, we found we could manage relations on digital platforms like MS Teams, while things went smoothly, but as soon as there was a problem, it was almost impossible to get some decent problem-solving when we could not meet in person.
"Being back together with customers here in Asia enables us to really start redeveloping markets and developing new business. There are new markets for our pears like Vietnam and Thailand that were put on the backburner a bit because we couldn't do in-person marketing activities. With the situation changing now, we can restart that."
For South African growers, while traditional markets in the UK and Europe might be closer, Griesel said the drive to develop markets in Asia was high on the strategic agenda.
"In the last few years, South African pears have gained access to China. Table grapes secured access to Vietnam and we're working hard on the Philippines as well as targeting South Korea and Japan. Our avocado and berry industries are also working to open new markets in the east.
"Asia is a very important market and we've started to build good trade relationships here. We see it as a market with a lot of potential."