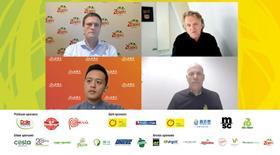 The first day of Asiafruit Congress 2021 treated viewers from around the world to a stream of insights into key trends influencing Asia's fresh fruit trade.
Whether it was an examination of overarching issues such as Covid-19 or sustainability or focused discussion on emerging markets and categories, there was something for everyone.
Day one – Asia-Pacific track
Asia Fruit Logistica's new executive director David Axiotis commenced proceedings and discussed plans for the return of Asia Fruit Logistica to Hong Kong next September.
Turning to the subject of sustainability, president of Dole Sunshine's Fresh Produce Group, Christian Wiegele, and head of Dole Ventures, Barbara Guerpillon detailed the Dole Sunshine Company's progress on its Dole Promise.
The pair shared how the company was implementing changes across its organisation to address issues such as access to nutritional food, food waste, plastic packaging, carbon emissions and more.
Vietnam was spotlighted as one of the Asian markets filled with potential. Speakers described the opportunities for premium produce such as organic fruits and how modern retail was evolving to create new avenues for marketers.
Stonefruit also featured as a growth category as Asiafruit Congress covered the continued success of cherries in addition to the advances being made by other fruits such as plums with new varieties driving growth.
The day one Asia-Pacific track closed with a focus on digital marketing as Zespri's Ng Kok Hwee and Rockit Global Julian Smith provided an insight into how their brands were standing out in the crowded digital marketplace.
The winners of the 2021 Asiafruit Awards were also announced with leading Chinese fruit group Joy Wing Mau, Indian distributor Suri Agro Fresh, Singaporean retailer NTUC FairPrice, and the Costa JV in China, clinching the prestigious accolades.
The Covid challenge
The keynote panel on day one of Asiafruit Congress addressed the ongoing effects of Covid-19 and the response of the fresh produce industry.
A panel of Dan Mathieson, chief executive of Zespri International, Jan Doldersum, manager of chain & retail for Rijk Zwaan and George Liu, founder of Frutacloud, gave their views on the biggest trends of the past 18 months.
Mathieson said there had been significant shifts in consumer behaviour with an increased focus on health, nutrition and immunity and fruit had benefited from this. Snacking had also increased as consumers eat more at home.
"The mainstay fruits of bananas and melons and apples have done well with modest growth but there has been a real acceleration for berries, avocados and kiwifruit driven by that focus on health and nutrition," said Mathieson.
"We've seen a massive shift in terms of the way that consumers buy… certainly consumers around the world and all of our key markets have become much more used to buying fresh produce online."
Doldersum noted the trend of home cooking had been a positive for vegetables like aubergines, broccoli, cauliflower. Additionally, there was an increasing demand for local produce with concerns about sustainability and traceability playing a key role in driving this trend.
Providing an insight into China, Liu said e-commerce sales had accelerated with the majority of Frutacloud products pre-packed for delivery. Consumers were also increasingly interested demanded local fruit as domestic production evolves.
"Due to the global supply chain disruption. I think the domestic product in China is gaining up a lot of steam and there are people focusing more the domestic production," said Liu.
"China has really grown alive in terms of protecting IP, in terms of support from the local government, in terms of very industrialised, very professional growing."