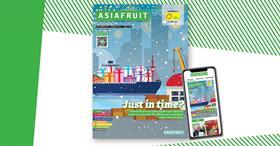 The December 2021/January 2022 edition ofAsiafruit Magazineis now available on theAsiafruitapp –onAppleandAndroid– bringing you the latest news and views from across Asia's fast-moving fresh produce markets.
Asiafruit's Lunar New Year Special provides a comprehensive preview to the busiest period on Asia's fresh produce trade calendar, which will be affected by Covid-19 for the third year in a row.
Leading buyers across China, Taiwan and South-East Asia provide the lay of the land in key Asian markets, revealing the trends set to dictate the festive period and the categories in demand.
Supply chain disruption is a prominent theme as importers and suppliers detail the logistical challenges facing the industry during this important period and the steps being taken to reduce risk.
The annual Australia Special returns to examine how the key exporting nation is navigating Covid-19. The pandemic halted a run of ten consecutive years of export growth, but the signs are positive heading into 2022. The country's fresh produce industry remains confident in its ability to supply high-quality fruit to Asia and is optimistic about new opportunities that it continues to create across numerous categories.
Elsewhere in the edition, NTUC FairPrice's head of fresh Andy Chang discusses what it means to be the first two-time winner of Produce Retailer of the Year following its triumph at the 2021 Asia Fruit Awards. Chang gives an insight into how the Singaporean retailer has adapted and thrived amid the challenges of the past 18 months.
Plus, there are reports on dried fruit and nuts, grapes and airfreight.