Chile edition details the country's plan for export growth post-pandemic including an interview with Asoex's Iván Marambio, while Japan feature examines the market's current cost crunch
The February 2023 edition of Asiafruit Magazine is now available on the Asiafruit app – Apple and Android – bringing you the latest news and views from across Asia's fast-moving fresh produce markets.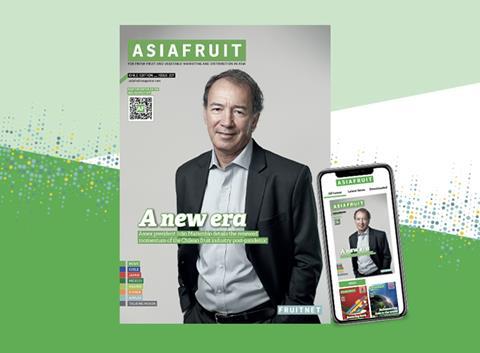 The Chile edition spotlights the powerhouse Latin American export country and details its fresh fruit industry's strategy to accelerate export growth post-Covid.
In a keynote interview, the new president of the Chilean Fruit Exporters Association (Asoex) Iván Marambio, lists the industry body's priorities and explains how the country's fresh produce industry can re-capture its pre-pandemic growth trajectory. Read about the steps being taken across key categories such as cherries, table grapes, blueberries and stonefruit, to ensure success.
This edition features Asiafruit's annual Japan market focus. Japan's fruit import trade is in the midst of a 'cost crunch' compounding the challenge of declining fruit consumption. Key players outline the path through this difficult period and the opportunities that are still on offer. Unifrutti Japan president Kennard Wong also speaks exclusively to Asiafruit about how the company is adapting to changing consumer demands.
Other highlights of Asiafruit February include an interview with Yu Huiyong, Pagoda founder and chairman, fresh off the Chinese produce retailer's IPO. Plus, updates from Mexico and the latest developments from the apple, table grape and citrus trades.