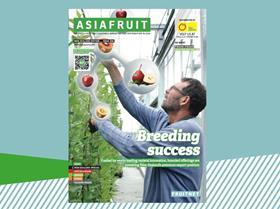 The March 2022 edition ofAsiafruit Magazineis now available on theAsiafruitapp –onAppleandAndroid– bringing you the latest news and views from across Asia's fast-moving fresh produce markets.
This edition is packed full, featuring Asiafruit's annual New Zealand Special and Fresh Focus South African Table Grapes in addition coverage of the latest developments in the Asian trade.
New Zealand has a long history of success in commanding a premium for its products in global markets, which owes in no small part to the country's long-term investment in varietal innovation. Asiafruit's New Zealand Special looks at how those investments continue to pay off with a growing range of branded offerings.
Fresh Focus South African Table Grapes 2022 explores how the South African table grape industry, led by industry body SATI, has set its sights on Asia. Read how the industry is changing to meet the demands of the Asian market and returning to China for a second, expansive promotional campaign this season.
Nick Miles, head of Asia-Pacific insight for grocery retail analyst IGD, shares the latest trends in Asia's retail sector as businesses respond to the Covid-19 pandemic and growth of online shopping.
This edition also includes updates on the US apple, pear and citrus deals; the Hot Climate Apple programme; and a preview to what's on the programme for Fresh Produce India, which takes place on 28 April 2022.