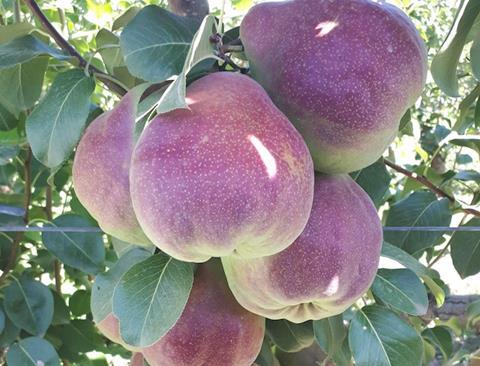 The first mixed container of Goulburn River Gold and Rico branded Australian pears were dispatched to Thailand this week.
Apple and Pear Australia's (APAL) industry services and export manager, Justin Smith, said flat and declining domestic pear sales have had pear growers feeling the pinch, leading to the industry's push into expanding exports.
"Rico are one of the premium-branded Australian pears launching in Asia as part of our renewed focus on export," said Smith.
Smith runs APAL's Market Readiness programme that's funded through Hort Innovation.
Part of the programme included conducting market research, which discovered promising results for pear growers looking to export.
"New and exciting brands like the blushing Rico, bright red Piqa Boo and the juicy, Asian-like Papple pear variety are bringing differentiation back to the category, and early indications are there that consumers will pay a premium," said Smith.
The inaugural Thai shipment comes after a concerted drive by APAL to generate interest in Rico and Goulburn River Gold, varieties first revealed at Asia Fruit Logistica in 2018.
A subsequent visit by key Thai retailers to APAL in early 2019, organised by AusTrade, formalised the export opportunity.
Victorian based grower-packer-marketer, Seeka Australia, was selected as the sales and marketing representative for the Thai export campaign.
Key components of Seeka's campaign included showcasing both pear varieties at the 2019 Asia Fruit Logistica, as well as approaching Thailand's largest supermarket chain, Tops, to launch the fruit in their higher tier outlets.
Seeka's national sales manager, Cameron Carter, is confident this shipment is just the beginning for Australian pears in Asia, "Awareness of pear varieties is typically pretty low, especially among the green skin varieties. Rico with its tongue-in-cheek branding and striking blush, will absolutely stand out in Asia where pears' sweet and juicy taste profile are especially well suited to consumer preferences."
There's a number of ongoing campaigns aiming to increase pear consumption across Asia, including the 'Pear Pilot' focus in Indonesia and Hort Innovation's efforts to develop new logos for Australian Pears and it's 'Dare to Pear' campaign.