Strawberries to be grown in LNG-cooled greenhouse in collaboration with Malaysian think-tank Might and Wasavé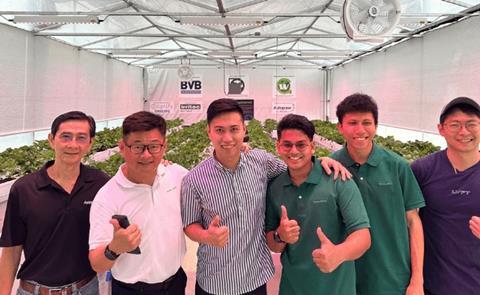 New Zealand-based ag-tech company Bluelab – with partner Excel Seeds – has announced a new collaboration Malaysian government-backed think-tank, MIGHT (Market-Driven Technological Partnership), and energy innovators Wasavé, that will see strawberries grown in a liquefied natural gas (LNG)-cooled greenhouse in Malaysia.
Excel Seeds and Bluelab have provided the automation and measurement technology required to grow strawberries in a lowlands strawberry farm in Malaysia, a feat made possible by Might and Wasavé's LNG greenhouse cooling technology.
The LNG-powered technology is a new approach to sustainable agriculture that can reduce total energy bills and decrease CO2 emissions, according to the groups involved in the project.
An Inauguration for the project was held on 9 September bringing together Bluelab, Excel Seeds, Might, Wasavé and other industry leaders.
Excel Seeds, a prominent player in the agricultural technology sector, has played a pivotal role in setting up the project by incorporating a Bluelab MultiGrow system and Bluelab handheld measurement devices.
The project is set to not only showcase the potential of CGR Coldgrow technology and LNG applications in agriculture but also highlights the importance of innovation and partnership in addressing the challenges of food production and environmental sustainability.
Hwang Shuang Chuan, Bluelab's regional business partner manager for Asia and Middle East said the project was an exciting opportunity.
"We are excited to be part of this incredible journey with MIGHT, Wasavé, and Excel Seeds," said Hwang.
"This partnership represents our commitment to pushing the boundaries of agricultural technology and sustainability. Together, we are working towards a future where innovative solutions can provide food security while minimizing environmental impact."
New concepts in retail store design, the latest advances in vertical farming, new investment in sustainable packaging, and the development of alternative markets are among the central themes of this year's Global Berry Congress.
Click here to register for Global Berry Congress 2023
The world's leading event for the berry industry returns to the WTC-Beurs in Rotterdam on 28 November with another top-level lineup of expert speakers and highly relevant topics.
The agenda covers the latest trends and challenges that will shape the fresh berry category in the next 12 months, as well as game-changing innovations that will help the business to grow. Click here for more information.