Australian-bred apple is growing in popularity across Asian markets such as Thailand and Indonesia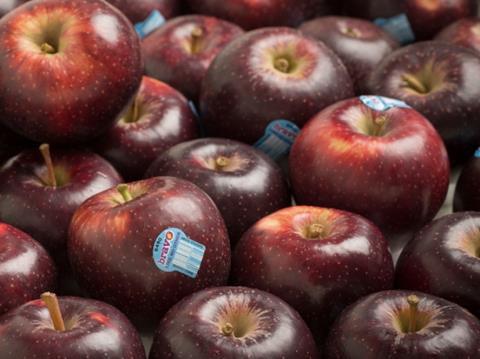 Bravo exports are ramping up out of Australia and the burgundy-skinned apple is capturing the attention of consumers in South-East Asia.
Production of the West Australian-bred variety ANABP01, marketed as Bravo, continues to grow. In 2021 production grew 30 per cent year-on-year to 6,000 tonnes are exports and following a similar trajectory.
South-East Asia, particularly Thailand, has been identified as a key market by WA Farm Direct, the Australian exporter of Bravo. The fruit marketer has exported Bravo apples to Thailand, Singapore, Malaysia, Indonesia and the UAE. Consumers in Hong Kong, the Philippines and Cambodia are also starting to take an interest in the variety.
WA Farm Direct sent its first two containers of Bravo apples to Thailand in 2020 and with the assistance of the Australian Trade and Investment Commission (Austrade) connected Thai retailer Siam Makro.
Since then, exports have significantly increased. This season alone, WA Farm Direct anticipates sending up to three times more containers to Thailand. This is despite challenges such as increases in freight costs, shipping delays and inflationary pressure worldwide.
Austrade's Bangkok team is collaborating with Siam Makro to range Bravo apples across Thailand. A campaign dubbed '7.7 at Fresh@ Makro' targeted consumers looking for special deals on significant dates (7.7 for 7 July). Season-long activity also spans in-store competitions and point-of-sale materials.
Austrade has also recently conducted hybrid-format roadshows on fresh produce for Siam Makro staff. This training took place in 145 stores, reaching an estimated 700 staff. Importantly, it showed how to handle, store and promote the Bravo – and even included Bravo tartlet cooking demonstrations.
Sean Engelbrecht, WA Farm Direct's Bravo national development manager, said efforts to promote Bravo apples in Thailand were paying off.
"WA Farm Direct is committed to increasing Australian Bravo apple exports. Austrade has been very active and passionate in helping us grow the Thai market," said Engelbrecht.
"In recent years, we have seen active discussion and interest in several ASEAN markets. However, given the situation related to the pandemic, it has been challenging commercially to make things happen.
"This year, we are getting more insights from those markets which will inform our 2023 export season. Thailand is leading the way in terms of activity in-market. More and more consumers are discovering this exceptional eating experience."
Engelbrecht said WA Farm Direct also hopes to hit the mark with Indonesian consumers this year. When Indonesia initially received its first Bravo apples last year, pandemic-related store capacity restrictions were in place.
He said Indonesian consumers are increasingly looking for healthier snacking options, and with, Austrade and Western Australia government support, taste testers, in-store promotions and other clever marketing initiatives will showcase the Bravo.
"Over time, we believe this apple will take the world by storm. It is unparalleled in its combination of appearance, taste and health benefits. It is proudly Australian and presents a great opportunity for Australian apple exports to be revived and have a positive, sustainable impact on our industry," said Engelbrecht.