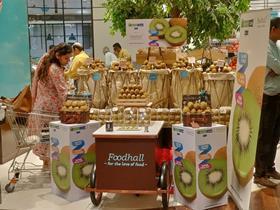 The Chilean kiwifruit industry's 2019 Indian marketing campaign has been extended to New Delhi following its launch in the south of the country last month.
A Chilean delegation inaugurated the latest stage of the campaign on Monday with in-store promotions set to run at premium Indian retailer Foodhall in Chanakya Mall.
The Chilean Kiwifruit Committee has planned a comprehensive campaign to drive sales and further raise consumer awareness of kiwifruit and its health benefits, in response to "skyrocketing demand" in the country.
"Chile is one of the few countries in Latin America that enjoys a partial Free Trade Agreement with India," said Asoex chairman Ronald Bown.
"At the moment, we have a major advantage on the market because,at just 15 per cent,the tariff for importing Chilean kiwifruit is 50 per cent less than for kiwifruit from other countries."
Describing India as a "hugely promising market", Carlos Cruzat, president of the Chilean Kiwifruit Committee said Chile would be increasing its presence in India with green kiwifruit. "India has many market segments with particular requirements and Chile, thanks to the structure of our fruit industry, is well positioned to cater for the varying needs when it comes to volume, packaging, arrivals etc.," he said.
"Furthermore, Indian consumers traditionally associate kiwifruit with the monsoon season, and that is precisely whenChilean kiwifruit arriveson the market.
"The fruit is said to strengthen the immune system against Dengue Fever, which is common at this time."
This is the second consecutive year of consumer promotions in India on behalf of the Chilean kiwifruit industry. The inaugural campaign took place in 2018 in New Delhi, followed by the first phase of activities this year in the southern Indian city of Chennai.
India ranks among the top five markets in Asia for Chilean fresh fruit, receiving 68,300 tonnes in 2018, according to Asoex data. Kiwifruit accounts for 15 per cent of that total, with apples representing the bulk of the volume at 82 per cent.