Plant & Food Research welcomes China's minister of science and technology and celebrates mutually-beneficial kiwifruit research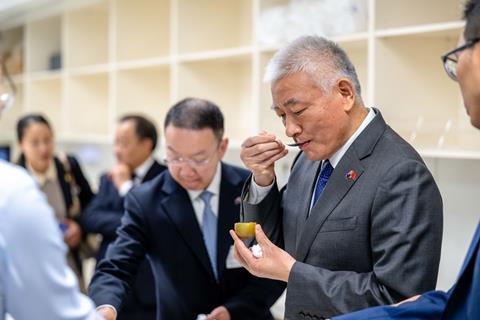 New Zealand research institute Plant & Food Research has hosted a visit from Dr Zhigang Wang, China's minister of science and technology as the two countries celebrated their research links.
Zhigang visited Plant & Food's Mount Albert research centre at the end of May as an official guest of the New Zealand government.
He was accompanied by senior officials in his ministry, China's consul general to Aotearoa New Zealand Shijie Chen, alongside senior representatives from the Sichuan provincial department of science and technology and other research organisations.
Zhigang's visit focused on recognising the long and enduring relationship between Plant & Food Research and Chinese research partners, which has a particular focus on mutually-beneficial scientific research into understanding and controlling natural diseases in kiwifruit with the Sichuan Academy of Natural Resource Sciences (SPANRS).
Collaboration between the two institutes is underpinned by the China-New Zealand Joint Kiwifruit Laboratory, which was established in 2014, as well as a programme of scientific collaboration where researchers from both organisations have worked on kiwifruit canker diseases and white peach scales.
During the visit Zhigang spoke of the growing globalisation of science, the need to build future science talent pipelines of next generation researchers and to focus on delivering science that makes a meaningful impact on the lives of consumers, while also being academically excellent and valuable across supply chains
Following the formal components of the visit, Zhigang and the delegation visited Plant & Food Research's dedicated consumer and product insights research facilities to meet with researchers and sample a range of fruits and fruit-related products currently under development.