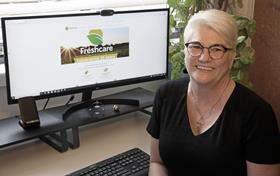 A coalition of US and international blueberry growers, importers, distributors, purchasers, and suppliers have come together in a campaign to oppose US limitations on blueberry imports.
The group, called The Blueberry Coalition for Progress and Health, includes the likes of Family Tree Farms, California Giant Berry Farms, Driscoll's, Giddings Berries, Hortifruit, United Exports, the Chilean Blueberry Committee, Aneberries and more.
All members of the Coalition agree that imports are not a substantial cause harm to the domestic blueberry industry, rather they help cultivate demand for all blueberries both domestic and imported.
The formation of the group precedes an upcoming United States International Trade Commission hearing into the extent to which increased imports of blueberries have caused serious injury or threat to domestic blueberry growers.
Dave Jackson, co-owner of Family Tree Farms, said his company had incorporated international production as it sees the value of importing blueberries to the US market.
"Our family has been farming in America for over the generations, and we are headquartered in the San Joaquin Valley in California. Our decision to farm in Mexico and Peru, in addition to the US, was in direct response from our retail customers to produce and deliver quality blueberries throughout the entire year," Jackson said.
"If we could grow blueberries year-round exclusively in the US we would, but seasonal crops like blueberries require farming in other countries to meet growing consumer demand throughout the year."
The seasonal nature of domestic production means that blueberries grown in the US are essentially unavailable for 20 to 30 weeks a year for most US consumers.
According to a release from the Coalition, thevast majority of the increase in fresh blueberry imports has occurred during these months, approximately 80 per cent of imported fresh blueberries enter the US in off-peak weeks.
Joe Barsi, president of California Giant Farms, said given the lack of overlap between when the two sources of supply US market, imported and domestic blueberries are better seen as complements than substitutes.
"The domestic industry has earned double-digit operating margins in every year of the time period included within the United States International Trade Commission investigation, which compares favourably to broader farm industry benchmarks," Barsi said.
"At California Giant Berry Farms, our mission is to deliver high-quality berries and take care of our growers. We believe that the counter-seasonal supply of imports has increased consumption in the US and has helped the health of the domestic blueberry industry."