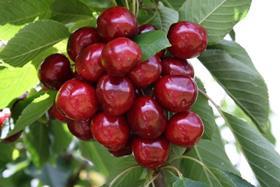 Information published on Chinese social networks over the weekend has caused concern among Chile's cherry exporters, prompting two of the country's leading industry bodies to address the situation.
Asoex and Fedefruta issued a joint statement concerning the alleged detection of Covid-19 in imported cherries, which it said is causing serious disturbances in the normal process of distribution and marketing.
"This situation is being permanently monitored and managed by the Asoex Cherry Committee, which is implementing a set of actions aimed at mitigating, as soon as possible, this complex situation," the statement read.
The concerns come at a critical juncture in Chile's cherry export programme. Lunar New Year celebrations, when cherry sales hit their peak in China, fall on 12 February this year.
Perhaps sensing the time senstivity, Chile's ambassador to China, Luis Schmidt Montes, took a more direct approach in addressing the situation, distancing Chile to the allegedly contaminated fruit altogether.
"The Chilean Embassy, to date, has not received any official communication from the General Administration of Customs of China (GACC) or any other official Chinese body, certifying that the finding referred to in the news is of product imported from Chile," announced Montes.
"Therefore, as this has not happened, we deny that these cherries come from Chile, even more so when four days have passed of confusing publications and without specification of origin that have been disseminated by the Chinese press and social networks."
Asoex was quick to highlight the transmission of Covid-19 through food has never been reported, nor is there scientific evidence to suggest transmission through food or food packaging is possible.
The industry body also made reference to Wu Zunyou, chief epidemiologist at the China Centre for Control and Prevention of Diseases (China CDC), who, at a recent press conference of the Prevention and Control Mechanism of the State Council, said: "A nucleic acid test positive does not necessarily mean that it is infectious."
"The risk of infection from consuming food imported from the cold chain is very low," explained Zunyou.
Asoex said actions in mass media, social networks and key opinion leaders are being implemented through Chinese advertising agencies, with the aim of regaining the trust of consumers and distributors.
"In the unlikely situation of a Covid detection in a box of cherries, the consumer can be assured of the safety and cleanliness of the final product delivered to China, since in Chile our cherries undergo a meticulous process before being safely protected within sealed bags hermetically to reach the end consumer in optimal conditions," the statement read.
"Our industry is actively collaborating with our business colleagues in China and with both Chinese and Chilean public authorities, in order to ensure that this season, consumers can celebrate the Chinese New Year with friends and loved dear and enjoy your red moment, with the cherries from Chile."
Asoex also highlighted the measures the Chilean export industry has implemented since the outbreak of Covid-19 last year.
"Since March 2020, the industry improved its security measures and protocols to prevent and reduce the risk of infection. All slaughterhouse and packing plant personnel have been trained in the strict use of masks, face shields, and other personal protective equipment," the statement read.
"There is an obligation to perform temperature controls on anyone entering the facilities, increasing the distance between line workers in processing rooms, and disinfection measures when taking workers to and from processing plants to avoid possible infections."
At the time of writing, Chile had reported just under 700,000 cases of Covid-19 and a total 17,933 deaths, with the daily infection rate at 4,165 (averaged over a 7-day period).