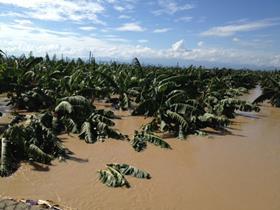 A major relief effort is underway in the Philippines as the country reels from the devastation caused by Typhoon Yolanda, internationally known as Haiyan.
More than 10,000 people are believed to have been killed in the province of Leyte, after the massive storm flattened infrastructure and left hundreds of thousands more homeless.
"The typhoon has absolutely devastated the region," said Gordon Rogers, chief executive of Applied Horticulture Research, which had been working with the Visayas State University on vegetable production in the country's principal geographic region.
"Many people there were living in fairly primitive housing and it just would have been destroyed."
At present, the priority is getting food and clean water to the area, with 4,209 food being sent to Bantayan town and 6,000 to Madridejos by the state's Department of Social Welfare and Development (DSWD).
Crops in the area have been devastated, with coconut, banana, abaca and rice being the primary casualties.
"Production for those looks to be wiped out entirely," said Rogers.
All of the growing sites Rogers and his team had been working at have been confirmed to be destroyed at Visayas. While confirmation has yet to arrive regarding others, he doesn't hold out much hope.
"It's pretty likely everything has been destroyed," he said.
Haiyan, one of the strongest typhoons ever recorded, spared Mindanao, the Philippines' major production region for bananas and pineapples, which bore the brunt of Typhoon Bopha last year.
Local industry sources confirmed that banana and pineapple crops had not suffered any damage, but they told Asiafruit that shipping delays were expected.