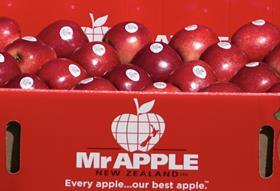 New Zealand agribusiness group Scales has reported its FY2021 full year results (12 months to 31 December 2021) announcing a profit of NZ$36.9m (US$25m).
Scales' NPAT of NZ$36.9m was up 39 per cent on the FY2020 figure of NZ$26.6m, meanwhile, its underlying EBITDA of $73.8m for FY2021 was up 15 per cent year-on-year from NZ$64.1m
The company's horticulture division, which includes apple grower-packer-exporter Mr Apple, performed strongly amid the challenging environment of Covid-19.
Scales chair Tim Goodacre said the company's diversified agribusiness strategy has underpinned record revenue and record underlying NPAT notwithstanding the effect of Covid-19 on both global and domestic markets.
"Once again, the hard work and dedication of the entire Scales team has excelled in what has been another challenging year, with all divisions performing strongly," said Goodacre.
"Mr Apple also benefited from diversification in terms of both markets and varieties. Whilst volumes were affected by weather and orchard redevelopment, it was aided by strong in-market pricing. Scales Logistics' strategic value to its customers, including in house customers Mr Apple and Meateor, once again proved to be invaluable, with supply chain challenges successfully navigated."
Andy Borland, managing director of Scales, said the Mr Apple harvest of 3.6m TCEs was picked, packed and exported in full and on time to global markets, with a pleasing 6 per cent increase in premium varieties compared to 2020.
"We experienced continued growth in the Asia and Middle East markets despite disruptions caused by Covid-19. In-market pricing was also strong, with pricing above the prior year for most varieties. This reflected reduced in-market volumes, larger fruit for certain varieties and strong demand for our new varieties such as Dazzle. Mr Apple's diversified strategy, both in terms of geographical markets and varieties, continues to prove successful," Goodacre said.
"Mr Apple implemented its multi-year investment and automation plan to increase productivity and sustain margins, with the installation of tray de-nesting machines at the Whakatu packhouse. We believe that this project, once complete, will result in the Whakatu packhouse becoming one of the world's most automated apple packhouses. We also redeveloped 35 hectares of orchard, primarily into Dazzle and NZ Prince varieties, as well as continuing to implement our 'intensive planting' techniques to enable pruning, thinning and picking efficiencies"
Goodacre reconfirmed the company's forecast for 2022 and said notwithstanding the market pressures, indications were positive for the current apple season with strong early demand for branded varieties such as Posy and Dazzle.
"The board reconfirms the underlying net profit attributable to shareholders guidance for the group to be between NZ$23.5m and NZ$28.5m, implying an underlying net profit range of NZ$30.5m to NZ$35.5m and an underlying EBITDA range of NZ$62m to NZ$67m," Goodacre concluded.