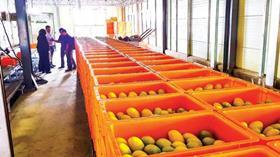 Cambodian company Hun Ty plans to be the first send commercial shipments of fresh mangoes directly to China following a number of trial shipments.
According to a report from the Phnom Penh Post, Cambodia's Ministry of Agriculture, Forestry and Fisheriessaid the company sent three trail shipments to China via Vietnam at the start of December.
China granted access to fresh Cambodian mango exports in June with a 500,00-tonne annual quota and since then, 48 companies have applied to the Ministry for permits.
Hun Ty said it will be ready to ship between 1,500 and 8,400 tonnes of fresh mangoes once its agro-industry and economic zone under construction along National Road 4 is completed in the near future.
The company also said it had installed industrial steaming equipment and machinery for pest control as part of wider, significant investment in packaging, cleaning and processing for export.
"The company hopes that the cleaning and packaging experience gained over the last three days will help it speed up future fresh mangoes exports from Cambodia to the Chinese market," Hun Ty said.
Lim Heng, vice-president of the Cambodia Chamber of Commerce, said China not only offered a promising market for Cambodian exporters, but if the product is received well could attract investment.
"This is another new positive sign that Cambodian fresh mangoes are headed for the world's most demanding markets," Heng told thePhnom Penh Post.
"Exports now not only help expand the market for farmers, but also represent an opportunity to attract investment to mango cultivation in Cambodia."