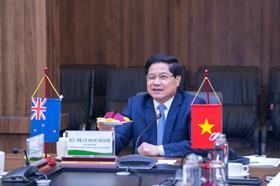 New Zealand and Vietnam have committed to expanding their agricultural cooperation and expanding access for fruit exports from both counties.
On 6 April representatives from the two countries met for the second New Zealand - Vietnam Agricultural Dialogue. The dialogue was held virtually by chief executive of the New Zealand Ministry for Primary Industries, Ray Smith, and vice minister of the Ministry of Agriculture and Rural Development (MARD), Le Quoc Doanh.
At the event both countries committed to enhancing bilateral trade, agricultural sustainability, promoting food safety, utilising agriculture research and technology for in rural development.
Smith said there was an opportunity for both sides to consider how they can work together to build the resilience of their agricultural industries following the Covid-19 pandemic.
"We also look forward to finalising new fruit access for each other this year so consumers can enjoy New Zealand strawberries and squash in Vietnam and Vietnam's limes and pomelos in New Zealand," said Smith.
New Zealand has been supporting the development of Vietnam's dragon fruit industry since 2013, through the Vietnam-New Zealand Premium Fruit Variety Development Project. Doanh proposed further collaboration in this area and said his country's industry could learn from the success of New Zealand's kiwifruit industry.