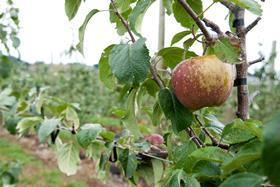 High winds have damaged the fruit crop in Nelson in New Zealand's South Island, causing losses to late berry volumes and wind-rub issues for pipfruit and kiwifruit.
Ongoing wind problems over the past few weeks have curtailed the boysenberry and raspberry crops in the region, according to local growers.
"We basically lost all the end fruit of the harvest, which is not good given we had sales for all of it," Julian Raine of Berryfruit Export NZ told the Nelson Mail. "Every grower I've spoken to lost fruit."
Newly-grafted gold kiwifruit canes have taken a hit, and apple and pear trees have also taken a battering, with older trees losing branches and some younger trees uprooted completely.
Some fruit has also suffered wind-rub damage, which will cut into the amount of fruit available for export.
"It affects their presentation and quality and means more will end up in the juice factory," said Dennis Cassidy of grower Growell Marketing.
The wind problems have compounded hail damage from December, which together have tarnished what was otherwise looking to be a good apple and pear season, reported the Nelson Mail.
But despite the problems, overall quality is still looking high, according to local growers, particularly for the Jazz and Envy apple varieties. Growers are now hoping for some final rains to improve fruit size before harvesting gets underway.