Modernising production methods and managing growth of China market among key issues for Vietnam's fresh fruit exports, hear attendees at Asia Fruit Logistica seminar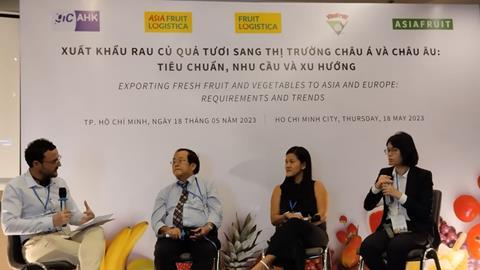 An expert panel discussed some of the key challenges and opportunities to Vietnam's fast-developing fresh fruit exports at a seminar hosted by Asia Fruit Logistica in Ho Chi Minh City last week.
The seminar – 'Exporting fresh fruit and vegetables to Asia and Europe: requirements and trends' – was organised by Asia Fruit Logistica and the Vietnam Fruit and Vegetables Association (Vinafruit) on 18 May – together with Asia Fruit Logistica's local partner AHK Vietnam and media partner Asiafruit Magazine.
The closing panel discussion looked at the market trends and potential for Vietnam's fresh fruit exports, with expert speakers including Vinafruit secretary general Dang Phuc Nguyen; Jennifer Karla Briones, export sales manager of The Fruit Republic; and Thao Nguyen, business manager of leading dragon fruit exporter, Hoang Phat Fruit.
Vietnam's fruit plantings have boomed over the past decade to top 1.3m ha, presenting great potential to capitalise on growing demand in both domestic and international markets.
Nevertheless, the panel agreed that much work was required to modernise and upgrade the industry – from bringing in new varieties and disease-free plant materials to training farmers to manage their orchards and crops – especially as production remains fragmented and dominated by small-scale farmers.
Hoang Phat Fruit's Nguyen also highlighted the need to import and adopt foreign technologies and expertise. "We have applied vapour heat treatment machine technology from Japan and we're using a customised irrigation system from Israel for our dragon fruit plantations," she said. "They've made a real difference to our business."
The Fruit Republic is one of several foreign companies operating in Vietnam which have been offering advanced farming technologies and systems to make production more efficient and sustainable.
Briones said a key challenge is to build "awareness, support and cooperation" among the farmers themselves to accept and implement modern and professional farming systems – and to move away from traditional ways of operating.
"The understanding of doing more with less should be well accepted by growers and the community to make these programmes successful," she pointed out.
China: opportunity and challenge
The discussion also looked at how the rapid growth of China as an export market was shaping Vietnam's fruit industry. Despite the risk of becoming over-reliant on China, Vinafruit's Dang Phuc Nguyen said Vietnam's proximity was a competitive advantage that was impossible to ignore. "We can get our fruit into the market in just one to two days, whereas it takes Thailand seven to eight days," he noted.
He also highlighted the competitive strengths of Vietnamese fruit varieties, citing the example of the Ri6 durian, which is highly sought-after in China.
China has become stricter in terms of plant quarantine and food safety standards. Since 1 January 2022, exporters are required to source from registered growing areas and packing facilities with codes issued by China customs.
Hoang Phat Fruit's Thao Nguyen said her company has focused its exports on Japan and Korea because China has traditionally been a more volatile market, with prices fluctuating, but she noted that requirements are changing. "Now China is becoming more demanding on standards and certification, so we see an opportunity for a professional company like ours to build a presence there," she said.
While acknowledging the huge consumer market opportunity in China, Briones pointed out it also represents a significant supply competitor to Vietnam. "We only need to look at dragon fruit – it's been a major export product to China for Vietnam, but trade has been declining over the past few years as China has begun local production of the fruit," she said.
Briones warned against overdependence on China, noting that it could be "volatile" and "short-term market-driven".
"It would be more strategic for Vietnam to maintain distribution to other markets such as Japan, Korea, and Australia. The challenge is on the capacity of growers to align and comply with the tightening quality and quarantine requirements of these markets."
Thao Nguyen also highlighted the need for the Vietnamese industry to ramp up investment and capabilities in planting breeding to stay ahead of the growing competition.
"Vietnam used to be one of the only major dragon fruit producers and exporters in the world, but now dragon fruit is being planted in many places – in China, in India, South America and South Africa," she noted. "So we need to breed superior varieties with a point of difference from the competition."