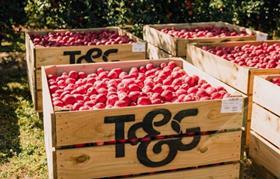 T&G Global has underlined the impact labour disruptions and logistics challenges have had on its business.
The New Zealand-headquartered company reported a net profit (after tax) of NZ$3.4m over the six months to 30 June 2021 (H1), down from NZ$9.5m over the corresponding period of 2020.
Total revenue for the group decreased 2.9 per cent year-on-year to NZ$652.1m, while operating profit decreased to NZ$10.9m, down from NZ$19.5m in H1 2020.
Commenting on the interim results in a release issued via the NZX, T&G Global chief executive Gareth Edgecombe highlighted a number of challenges stemming from the Covid-19 pandemic.
"The first half of the year has been challenging, with ongoing uncertainty and volatility," Edgecombe explained.
"Globally, high-quality fresh produce is more in demand than ever before and we're seeing incredible growth potential for our premium brands.
"Despite this, continuing international supply chain challenges, including disrupted shipping schedules, had more of an impact than we experienced proportionately last year. This affected our ability to get fresh produce to market on-time. We worked hard to address this, sourcing several charter ships and partnering with other businesses and industries, however these issues contributed to our financial performance."
Labour shortage hits apple harvest
Revenue from T&G's flagship apples business decreased to NZ$425m in H1 2021, down from NZ$440m over the corresponding period in 2020.
Edgecombe said adverse weather conditions in the Nelson growing region impacted a significant portion of the apple crop.
"In addition, the apples ripened early, creating a race to get the fruit off trees with a shortage of skilled workers ready to work in the regions," Edgecombe added. "This meant we saw an unprecedented amount of unpicked fruit.
"We worked hard to address the shortage of skilled and experienced workers, hiring more than 950 New Zealanders throughout the season."
T&G committed to recruiting 150 permanent staff members earlier this month, while automation is another option the company is exploring to alleviate labour disruptions.
"We also invested heavily in automation, welcoming eight new state-of-the-art automated picking platforms to increase productivity on our Hawke's Bay orchards, while also assisting in reducing injuries," Edgecombe said. "Despite these efforts, at the peak of the season we were still short around 300 people per day.
"Looking ahead, we're well progressed on our pathway to transition to a high-tech, automated growing and post-harvest model, and building capabilities amongst our local workforce, however this is a process which will take years to transition to."
Tough conditions domestically
T&G also flagged challenges for its New Zealand domestic business, T&G Fresh.
"Tough trading conditions across the entire primary industry sector were further exacerbated by labour constraints," T&G said in the NZX release.
"Covid-related issues and weather also played its part, with early stonefruit adversely affected by hail, complexities with the importing of bananas and the exporting of T&G's own-grown tomatoes, which, in relation to tomatoes, led to significant price decreases due to an oversupply in the market."
Despite the H1 financial performance, T&G Global chairman Benedikt Mangold said the company was well positioned to maximise future global growth.
"In these uncertain times, T&G's resilience, strategy and team has enabled the company to remain well positioned to meet future growth objectives," Mangold explained.
"The board is proud of the team's ability to remain agile and rapidly adapt to its changing operating environment, and I'm confident that we'll be able to meet the current challenges head on."