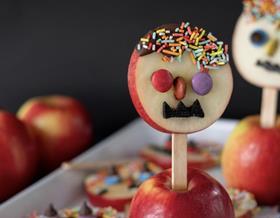 T&G Global has launched a marketing campaign to showcase its Jazz apple as the 'hero of Halloween'.
Rebecca Chapman, head of marketing at T&G Global, said Halloween is a popular time of the year in key international markets, making it the perfect occasion to encourage consumers to make healthier choices.
"We're sharing some fun, spooky recipes on our social media channels that are healthier than your typical Halloween candy. These are simple recipes that families can make and enjoy together, with Jazz apples of course," said Chapman.
"As well as sharing recipes, we're also celebrating with new point of sale displays, a dedicated Halloween website and a fun Instagram filter."
The new point of sale artwork embraces a refreshed look for Jazz, unveiled by T&G Global earlier this year, and integrates Halloween elements depicting spooky, carved apples.
The brand's signature motto, 'Is it Jazz time yet?',has also been morphed to 'Is it Boo time yet?'for the occasion.
The fully integrated campaign will be activated in key markets across Asia, Europe, and North America.