Increasing costs and a weak yen drove Japanese fruit imports down in 2022 while prices soared to record levels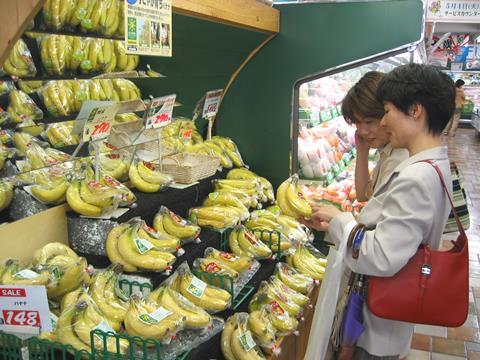 Japanese fruit imports have dropped to their lowest levels in five years with rising production and freight costs and a weak yen contributing to a challenging environment for importers.
According to data from the Japanese Ministry of Finance, Japan imported 1.63m tonnes in 2022, down from 1.77 in 2021 and lower than 1.66m tonnes in 2018.
The average value of imported fruit per kilogram rose to ¥172 in 2022 from ¥154 in 2021, an increase of 12 per cent. This was the highest recorded price in over ten years.
Analysing the data for 2022 Jack Moriya, president major Japanese wholesaler and importer Tokyo Seika, said the market faced a number of compounding challenges.
"Rise in import cost with the weak Japanese yen hits fresh fruit import. The increase in ocean freight, F.O.B. prices and the weak Japanese yen contributed high import cost. In essence, we had a negative trifecta in 2022," said Moriya.
Bananas and pineapple remain the most imported fruits with 1.05m tonnes and 176,435 tonnes imported respectively. The Philippines has recaptured some of its share of the banana back from Latin American suppliers, accounting for 78.2 per cent of imports. In 2018 the Philippines supplied 83 per cent of Japan's imported bananas but had its share eroded down to 75 per cent in 2020.
Despite the challenges of 2022 that affected all categories, Moriya said some fruits had been trending upward in the past five years.
"Kiwifruit and avocado had shown impressive growth while not in 2022. Citrus generally drifted downwards over the five years," he said.