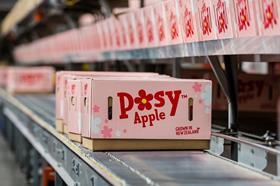 Kiwifruit and apples are among the New Zealand products being promoted in an online shopping festival held by Chinese e-tailer JD.com.
JD collaborated with New Zealand Trade and Enterprise to launch the week-long 'New Zealand National Products Festival' on 8 May, giving Chinese consumers access to a host of promotions.
More than 50 brands New Zealand brands offered over 300 products including a number of major fresh fruit brands.
Kiwifruit marketer Zespri offered customised products in special JD packaging, Mr Apple designed a new gift box for JD's consumers meanwhile, Posy introduced new apple products during the promotion.
To help facilitate the delivery of fruits and vegetables and ensure freshness JD has been upgrading its global sourcing supply chain with brand partners.
Earlier in March, JD announced it had become the world's first online retailer to supply Zespri kiwifruit from the brand directly to consumers.
New Zealand apple brands, Mr Apple and T&G also followed suit. This direct supply model aims to remove middlemen and benefit the end consumers, while ensuring sufficient product supply.
Clare Fearnley, New Zealand's ambassador to China, said the country's producers were excited to be able to share their product with the people of China.
"New Zealand offers a world-class food production system and food safety quality control. We look forward to having more friends from China taste high-quality New Zealand food through this promotion with JD.com," Fearnley said.