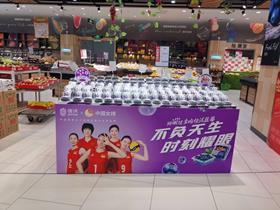 Leading Chinese fruit producer and distributor, Joy Wing Mau (JWM), has announced a new partnership with China's national women's volleyball team, the first fruit company to collaborate with the national team.
The partnership sees JWM become the team's official supplier, with its Joyvio blueberry, Joyvio durian and Joyvio banana brands becoming the official fruit of the team.
In a statement, JWM said the partnership represents the group's brand tone of knowledge, fitness, personal improvement and kindness.
Throughout its 40-year history the Chinese national women's volleyball team has won ten gold medals across Olympic Games, World Championships and the World Cup.
JWM said it hopes its partnership will assist the team in achieving glory once again.
Brand new fruit packaging and retail displays have been created to mark the partnership, and will be showcased nationwide at partner retailers' stores, including Walmart, CR Vanguard, Ole', Sam's Club, JD, Freshippo, Yonghui and more.