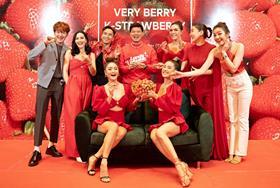 A Korea Agro-Fisheries Trade Corp (aT) has highlighted the country's strawberries to Cambodian customers at a promotional event held at a five-star hotel.
The Hyatt Regency Phnom Penh hosted the strawberry buffet at the end of 2021, which was attended by Cambodian fresh produce importers, restaurateurs, social media influencers and the media.
The buffet included finger food, desserts and other dishes featuring strawberries exported from Korea. The event introduced the attendees to the journey of the strawberries from the farms in Korea to their plates in Cambodia.
According to an aT report, the event drew a positive response from the attendees who noted the growing popularity of Korean products.
"Cambodian tropical fruits have a strong sweetness, but Korean strawberries also have a sour taste. In addition to Korean strawberries, I want to handle a variety of fresh and diverse Korean fruits," one importer commented.
Korea's strawberry exports to Cambodia have been slowly growing in recent years and topping US$320,000 in 2021, up from just US$26,00 in 2017. Other Korean exports have experienced a similar trend with Korean exports of Shine Muscat grapes to Cambodia increasing 43 per cent year-on-year for the month of November.