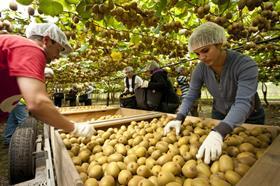 The New Zealand government has announced 500 spaces in its international quarantine facilities will be allocated to skilled workers from June.
This allocation includes 150 spaces a fortnight which will be held for Recognised Seasonal Employer (RSE) scheme workers, who form an important part of the workforce for New Zealand's horticulture industry.
The decision has been welcomed by the industry andMike Chapman,chief executive of HortNZ, said will move will facilitate growth.
"Pacific workers are an integral part of the horticulture industry's seasonal workforce, particularly for harvest and winter pruning. They make up the shortfall in New Zealanders while at the same time, enabling the horticulture industry to grow and employ more New Zealanders in permanent positions," said Chapman.
"The RSE scheme is very much a win-win for the Pacific and for the New Zealand horticulture industry. That is why the horticulture industry has advocated so vigorously for the scheme to continue and for some sort of Pacific bubble to be formed, given New Zealand's Pacific partner nations are Covid-free, and we now have a vaccine being rolled out."
This decision should see around 2,400 more RSE workers entering New Zealand in time for next summer's harvest season and pruning this winter. This is in addition to the 7,300 RSE workers currently in the country, including the 2,000 the government approved at the start of 2021.
However, these numbers are still below the amount of RSE workers used by the industry pre-pandemic and some of the new workers w replace existing RSE workers returning home.
NAZPI chief executive Alan Pollard told Stuff, the new workers were too late for the current harvest and the cost of new workers has also been criticised by the industry.
"We appreciate the government acknowledging the need for Pacific workers due to the lack of available New Zealand workers. But we believe the costs to growers and employers for this new cohort are too high, given our own calculations of the actual cost of quarantine," said Chapman.
"That is why we pushed hard for the government to reduce the cost and, while we did achieve some concessions, there was limited room for movement and no agreement was reached.
"Given the high cost to growers and employers, they will need to make their own business decisions on whether to participate in this cohort of Pacific workers."