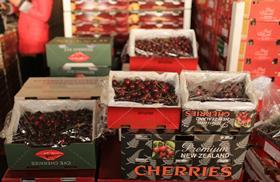 New Zealand's industry body for stonefruit growers, Summerfruit NZ, has reassured its international customers the country remains Covid-free, after Chinese social networks reported cherries from an undisclosed international supplier were allegedly contaminated with Covid-19.
In a report published by RNZ,Summerfruit chief executive Richard Palmer said the Ministry for Primary Industries had not been advised by Chinese authorities that the detection of Covid-19 in the lining of imported cherries was in any way connected with New Zealand fruit.
'As New Zealand officials have not been advised of a Covid-19 detection, and with New Zealand free of Covid-19 in the community, Summerfruit New Zealand can only conclude that this apparent case is not related to New Zealand fruit,' said Palmer.
'The last case of Covid-19 in the New Zealand community was on 18 November 2020, before the export summerfruit harvest started.'
As reported earlier, Chile has also distanced itself from the potentially contaminated box of cherries. It's believed a second test carried out on the box returned a negative result for Covid-19.