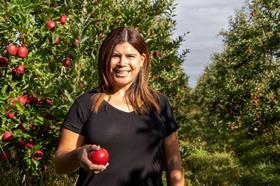 New Zealand's leading organic apple grower, Bostock New Zealand, has recorded a 136 per cent increase in organic apple sales this year across its direct retail programmes in China.
Bostock New Zealand international market manager, Jane Maclean (pictured), said she's delighted to see Bostock's organic apple programmes stand out in a tough selling year in China, with Sam's Club a particular highlight.
"We don't sell our organic apples into wholesale channels," Maclean said. "Instead, we focus on direct supply into many of China's key retailers, including Costco, Pagoda, JD.com and Benlai as well as our import partner, Joy Wing Mau.
"For our retailers, this offers more pricing stability, and for Bostock, this has allowed us to directly educate and promote to the end customer on the benefits of organic. Something which has been essential, as organic is still an emerging category in China.
"Converting promotional activity into volume has been challenging, but Sam's Club has changed the landscape for us in a very short period," added Maclean.
Sam's Club directly imported Bostock organic apples for the first time in 2020 and Sam's Club senior buyer, Vincent Huang, said there were two key reasons behind this move.
"Sam's Club take pride in caring about our customer's health and Bostock organic apples fits these criteria. Secondly, we are dedicated to improving and adding value to our customer's shopping experience. Directly importing Bostock organic apples means we can better manage and protect quality and pricing," Huang said.
Despite only stocking Bostock organic apples for one season, Sam's Club volumes have increased 70 per cent this year.
Huang said Sam's Club are happy with the strong growth in organic apple sales. "Our customers have engaged well in our stores and online to organic information and catalogues and are paying more attention to the advantages of eating organic food.
"Trust is the other important factor. Our loyal members trust that Sam's Club only source and sell genuine organic certified products," noted Huang.
Jacky Qin, China market representative for Bostock New Zealand, re-iterated the importance of building trust in the mind of consumers.
"Our organic apples first sold in China in 2015 but our volumes really only started to increase two years ago," she explained. "We feel the story of John Bostock, largest organic apple grower in New Zealand and the Southern Hemisphere and our reputation for trusted organic certification and food safety, has finally started to 'stick' which is cultivating larger groups of loyal, repeat consumers".
Maclean said Bostock New Zealand has supplied both organic Fuji and it's IP variety, organic Dazzle to the China market this year.
Organic Dazzle is globally exclusive to Bostock New Zealand and is a bright red sweet apple which has been specifically developed for Asian markets.
"This is the first year (2021) Bostock had commercial volumes of organic Dazzle available so, it was great Sam's Club were willing to take a chance and range it," said Maclean. "We have invested a lot into this variety and were both excited and relieved to hear their customers loved the colour and taste, and to get that tick of approval.
"Despite its size and population and demand for premium, high-end produce, the China market has remained a small and niche market for organic imported fresh produce because there are only a few global companies which have been audited and approved by WIT China to export into the market. This makes it more challenging to grow the Organic imported fresh produce category."