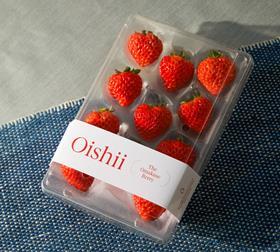 Oishii, the produce company behind the world's largest indoor vertical strawberry farm, has announced the opening of its newest farm in Los Angeles.
The company's west coast expansion marks the first time Oishii's strawberries are available outside of the greater New York area.
Oishii is known for its Omakase Berry, a special strawberry varietal from the foothills of Japan regarded for its sweetness, aroma, and creamy texture.
"Los Angeles is an incredible food city, and we're excited to put down roots in California. It's where I first stepped foot in the US, and where the idea for Oishii first began, so it feels like a homecoming for us," said Hiroki Koga, chief executive and co-founder of Oishii.
"Since our earliest days, consumers, chefs, and retailers have all been asking us to bring our berries to LA. We can't wait for more people to experience endless summer with the Omakase Berry as our company continues to reimagine the future of farming."
Oishii's berries will be available for sale at Destroyer, the Culver City cafe atelier from chef Jordan Kahn.
The Omakase Berry was first introduced in the US in 2018, quickly catching the attention of Michelin-starred chefs in New York. Beyond retail options, the berries will soon be served on the menus of LA's favourite restaurants.
Oishii's west coast expansion comes on the heels of steady growth for the company. In March 2021, Oishii closed a US$50m Series A, with funding dedicated to opening new markets and investing in R&D for new technologies designed to transform the future of agriculture.
The vertical farming innovator is currently in development on new strawberry varietals, as well as other types of flowering produce, such as tomatoes, melons, and peppers.