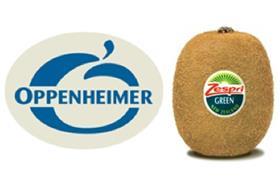 One of the leading figures in the North American fruit import trade has underlined his support for New Zealand kiwifruit marketer Zespri and dismissed talk of a possible deregulation of the Southern Hemisphere country's kiwifruit export business.
John Anderson, president, chairman and chief executive of leading North American importer Oppenheimer Group, told New Zealand newspaper the Bay of Plenty Times that retail customers in the US and Canada also favoured maintaining the status quo.
'No-one I know of (in North America) is calling for the industry to be deregulated,' he told the newspaper. 'Retailers like Zespri kiwifruit because they know they are getting quality and they know exactly what price they are paying.'
Mr Anderson added that the establishment of Zespri as a single point of entry had removed volatility from the sector and ensured price levels remained sustainable from the growers' point of view.
'Retailers don't necessarily want the cheapest price. They want to know their competitors are not paying less than they are,' he argued. 'What is most important is the quality of the fruit and the service they receive.'
Oppenheimer is one of two companies which currently hold the exclusive rights to market Zespri kiwifruit in the US and Canada, the other being The Giumarra Companies.
However, the group cannot reasonably be accused of bias in supporting Zespri's cause, given the fact it has even closer links to Enza/Turners & Growers, the New Zealand exporter-marketer which has a 15 per cent equity stake in the Vancouver-based company and which has led recent calls for Zespri's single-desk status to be revoked.
Oppenheimer works as a partner company of Enza's parent group Turners & Growers, distributing six of the New Zealand group's key product categories (apples, grapes, kiwifruit, citrus, stonefruit and hot-house produce) in North America.
The importer also counts a former general manager of Enza International among its key management personnel, namely Dawn Gray, senior vice-president of sales, marketing and categories.
Zespri, for its part, offloaded its own 15 per cent stake in Oppenheimer back in September 2005, with its US arm New Zealand Kiwi Corporation Inc selling the shareholding to Grandview Brokerage for NZ$2.83m.