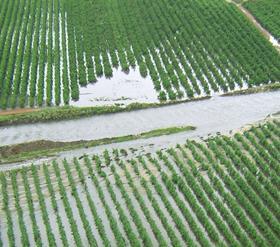 Fruit and vegetable prices in Pakistan have skyrocketed after devastating floods destroyed 405,000ha of crops, the Associated Press has reported.
The price of tomatoes, onions, potatoes and squash have risen by as much as four times in the past few days, meaning they are out of reach of many people in the country.
"It is like a fire erupted in the market," said Lahore vegetable buyer Mohammad Siddiq. "Floods and rains have made these things unaffordable."
Farmer Zahid Gardezi said the floods had wreaked havoc on the country's transport and communications systems.
"The floods have destroyed the agricultural fields and washed away vegetable crops ready for harvest," he said. "Whatever farmers stored they cannot transport because roads have washed away and communication links are down."
Punjab has been particularly hard hit, and the UN said more crops were destroyed in the country's northwest.
"The flooding has caused massive damage to crops and also to the reserves that people had at their houses," said Amjad Jamal, a spokesman for the World Food Programme.
"Khyber Pakhtunkhwa was a food insecure province even before the floods, and a lot of areas are such that people can't afford even one meal a day," said Mr Jamal, adding that at least 4m Pakistanis would be in need of food assistance over the next three months.