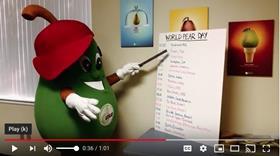 US marketing body Pear Bureau Northwest (PBNW) has released a short online film to help broadcast the fourth annual World Pear Day on 8 December to consumers across the digital landscape.
The new video features a cast of pear characters coming together to announce World Pear Day and will be shared with consumers on YouTube and social media, PBNW said.
'Video content is the dominant form of media that consumers digest, and we wanted to inject a little more fun into our worldwide pear sampling event with a simple and humorous video to generate consumer interest, engagement and excitement,' said
PBNW president and CEO Kevin Moffitt.
Consumers will also be encouraged to use a series of World Pear Day gifs that have been officially launched on the USA Pears GIPHY brand channel. These animated clips are searchable and shareable on platforms such as Twitter, Facebook and even text messages by simply searching for 'pears' or 'worldpearday', PBNW said.
'PBNW has been investing resources into developing media content that is fresh, engaging, and forward-thinking. Additional examples include the extreme snacking video, several new recipe videos, the 'Hand-Picked Harvest' series focusing on pear growing communities, and live broadcasts on the @USAPears Facebook and Instagram pages throughout the season,' the bureau said.
This year, World Pear Day celebrations will start in New Zealand and finish in the pear growing regions of the Pacific Northwest, PBNW added.
Pear Bureau Northwest is a non-profit marketing organisation established in 1931 to promote the fresh pears grown in Washington and Oregon, home to 88 per cent of the US commercial fresh pear crop.
The bureau represents more than 800 grower families and partners with outlets throughout the world in an effort to increase overall success with the pear category.