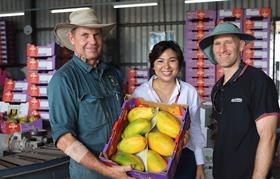 A new sensory genetics programme delivered through Hort Innovation is aiming to determine what consumers want in their fruit – across the characteristics of flavour, colour, size, texture and smell.
The A$7m (US$5m) project is being led and co-funded by the University of Queensland's Queensland Alliance for Agriculture and Food Innovation (QAAFI), the Queensland Department of Agriculture and Fisheries, and Griffith University, the research initially focuses on papaya, strawberries, mangoes, pineapples and passionfruit.
Hort Innovation research and development manager, Vino Rajandran said the five-year project led by a team of consumer, sensory and molecular scientists aims to enhance the overall sensory experience of Australians and those in export markets when they eat Australian fruit.
"Studies show one bad fruit eating experience can turn a shopper off buying a fruit or vegetable," Rajandran said.
So, the ultimate situation for a grower is to produce a good quality fruit that consumers love every time. This will lead to less food waste, at home and along the supply chain."
QAAFI principal research fellow professor Heather Smyth said there is a scarcity of reports that link consumer preferences of these traits with current market sectors or demographics.

"What we know is that consumer decisions are driven by personal beliefs; social aspects of production such as whether it is responsibly sourced and produced; price and finally the experience or sensory characteristics," Smyth said.

"What we do not know enough about is the complex interplay of genetics that underlie the physical and sensory characteristics of fruit. Once sensory profiles for existing, and potentially new, characteristics have been established, we can naturally breed and select new varieties with the aim to eventually make them available to growers and consumers."
Senior biotechnologist Natalie Dillon said new varieties of mango, pineapple and strawberry are being developed through the Department's breeding programmes and would target the tastebuds of consumers.

"We want to maintain the taste sensation of our most popular fruits, but also work on improving the flavour, aroma, texture, look and colour. We are mapping the crop genetics that underpin the consistency of producing quality fruit so growers can confidently meet market demand," said Dillon.
Ido Bar, the lead researcher from Griffith University said this project aims to identify genetic and molecular pathways underpinning flavour and sensory profiles.
"By integrating this new knowledge into the breeding programs, we could improve the consistency of fruit and enable the growers to match market demands," Bar said.