Snack-sized apple brand partners with Turley Farms in Canterbury for first plantings in New Zealand's South Island
Rockit Global, the New Zealand-based company behind the miniature Rockit apple, has established its first plantings in the country's South Island through a partnership with Turley Farms.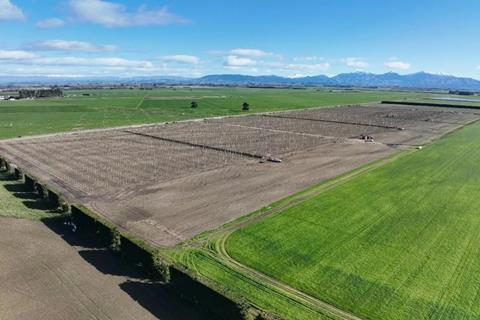 Rockit general manager - commercial, Tom Lane said the move forms part of the company's geographical diversification strategy.
"Hawke's Bay and Gisborne remain home for Rockit, but we are looking to ensure the long-term resilience of our growing footprint," said Lane. "We are using climate scenario modelling to identify new growing regions and see Canterbury becoming a prime region for horticultural production in New Zealand in coming years."
Turley Farms – which becomes Rockit's first South Island partner – has been a significant and innovative producer in Canterbury for more than 50 years, according to Rockit, transforming low productivity, dry crop and stock properties into high-value vegetable and arable land.
"Murray and Margaret Turley have a well-deserved reputation as excellent growers at the forefront of innovation and diversification," said Lane. "We are proud to have them as our first commercial partner in the South Island."
In 2021, Turley agronomist Dominic Cosgrove visited Hawke's Bay to study the viability of planting apples on a Turley property in Rangitata. The resulting trial orchard, planted under the 2D system with dripline irrigation, gave the Turleys the confidence to align with Rockit.
The joint venture between Rockit and Turley Farms has seen an initial 20ha of Rockit apples planted this year. The parties are looking for a third partner to join them to expand the total development to at least 100ha over the next three years. They plan to release an Information Memorandum this month, where qualified parties will be invited to inspect the development in November.
CEO of Turley Farms, Murray Turley, said the company began to explore the potential for growing pipfruit in South Canterbury two and a half years ago.
"During this exploration, Rockit apples emerged as a standout opportunity, offering excellent eating characteristics, a unique consumer proposition and brand, great growing support and premium returns for growers," he said. "After 15 months of discussions, Rockit and Turley Farms are thrilled to announce the establishment of a joint venture, marking the beginning of a new era for the pipfruit industry in Canterbury," said Turley.
Rockit Global chairman John Loughlin said horticulture has the potential to transform the rural Canterbury landscape over the next 20 years.
"Growing apples uses significantly less water, requires markedly lower nitrogen inputs than either dairy or arable production and, as a perennial crop, doesn't require annual cultivation," he said.