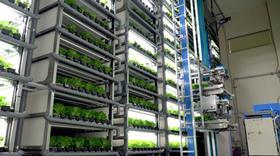 Japanese vertical farming company Spread has announced that its next generation food production system, Techno Farm, was named as a winner at Zenith Global's Vertical Farming World Awards.
Kyoto-based Spread, the only Japanese vertical farming company to win an award this year, came out on top in the Best Farm Design Innovation category.
The Awards were established in 2021 by food and drinks consultancy Zenith Global, with the goal of celebrating excellence and innovation across the global vertical farming industry.
The Awards comprise of 17 categories, with the winner of each determined by an independent committee of five judges, each with extensive knowledge in vertical farming.
In addition to Spread's innovative concept, the judges were impressed with the stable operating rate of 99 per cent at large-scale automated Techno Farm Keihanna (based on the number of harvested lettuce heads, compared to maximum capacity of the farm), which implements the system.
Judges highlighted the "impressive data points and performance metrics from a forerunner in the industry", and that Techno Farm delivered the "most evidence of improvement presented".
As the expectations for vertical farming continue to rise worldwide, Spread said that it planned to deliver a total production capacity of 100 tonnes per day in Japan by 2030.
'Spread will continue to pursue further business opportunities through technological innovation in the field of agritech, both in Japan and overseas,' the group noted. 'Spread aims to provide solutions for the global problems of climate change and food security, and the delivery of a truly sustainable society.'