Asiafruit Congress Statistics Handbook 2022 provides expert analysis of key trends in trade across 12 different Asian markets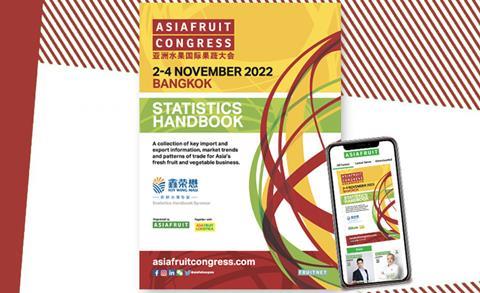 Asia's total fresh fruit imports declined slightly in 2021, but Southern Hemisphere suppliers increased their shipments to the region.
This is just one of the key trends in Asia's fresh fruit trade highlighted in the Asiafruit Congress Statistics Handbook 2022.
Published by Asiafruit Magazine, the annual statistical guide to Asia's fresh produce trade was launched at Asia Fruit Logistica and Asiafruit Congress on 2-4 November 2022 in Bangkok. Click here to access a free digital copy.
Asia imported 15.9m tonnes of fresh fruit from all origins in 2021, marking a 3.3 per cent decline on the previous year, according to analysis in the Asiafruit Congress Statistics Handbook 2022.
Intra-Asia trade, which is largely made up of temperate fruit exports from China to South-East Asian markets, and tropical fruits flowing from South-East Asia into North Asia, came in at 11.1m tonnes. This represented a 5.8 per cent decrease on the previous year and accounted for more than 70 per cent of Asia's total fruit imports.
Growth for global suppliers
Key Southern Hemisphere suppliers registered growth in shipments to Asia in 2021. Imports from South America grew 17 per cent year-on-year to 1.04m tonnes, driven by Chilean cherries and Peruvian grapes. South African exports to Asia increased by 18 per cent to 758,000 tonnes, while Asia's combined imports from Australia and New Zealand rose by 3 per cent to 1m tonnes.
Imports from the Middle East and North Africa region registered strong growth, increasing by 32 per cent to 460,000 tonnes. Iran, Turkey and Egypt were the key suppliers.
Markets on move
India's fresh fruit imports doubled to more than 700,000 tonnes in 2021, driven by increased shipments of apples from Iran and Turkey as well as citrus from Egypt.
Bananas represent the largest fruit category traded by volume in Asia, with China being the biggest importer. While the Philippines remains the leading supplier, it struggled to meet demand in 2021. China increased imports from Vietnam, Cambodia, Laos and Ecuador to supplement Philippine supplies.
China's imports of tropical fruits grew sharply in 2021, with imports of durians and longans from Thailand increasing by 40 per cent and 35 per cent respectively.
China is Asia's largest market for fresh fruit imports, with total volumes in 2021 increasing slightly to 5.4m tonnes in a challenging year for the trade.
Indonesia, which mainly imports temperate fruits, increased its fresh fruit imports by 24 per cent to 710,000 tonnes.
Imports of avocados registered strong gains across a number of Asian markets during 2021, albeit from a low base.
Comparative analysis
The Statistics Handbook presents not just numbers, but also informed analysis, helping the industry to make sense of production, supply, and patterns of trade across 12 different Asian markets.
"Trade data is now shaping our daily business decisions in ways not seen previously thanks to the availability of big data and analysis tools," said Wayne Prowse of Fresh Intelligence Consulting, who produces the market analysis for Asiafruit Congress Statistics Handbook. "In these uncertain times, the Asiafruit Congress Statistics Handbook continues to generate a wealth of statistical information to support the dynamic fresh produce industry throughout Asia."
Analysis of each of the 12 markets covered in the Statistics Handbook includes fresh fruit and vegetable import and export volumes for 2021. These are broken down by product for a year-on-year comparison while charts reveal the five-year trend for total fruit and vegetable import/export volumes.
The market share of suppliers for key import products is displayed in pie charts. Plus, there are charts and tables to show fresh fruit and vegetable production by product; trade balance; the relative share of tropical and temperate fruit imports; and fruit and vegetable consumption volumes.
Download a free digital copy of Asiafruit Congress Statistics Handbook 2022 here.