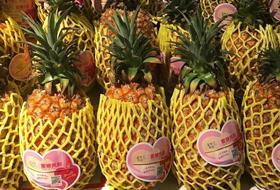 The Taiwanese pineapple industry has been able to find new customers at home and abroad after losing access to China, its largest export market.
China, which accounted for around 90 per cent of Taiwanese pineapple exports in 2020, closed its borders to the fruit from March 2021.
Since then Taiwan has been able to successfully divert much of its exports to other markets, namely Japan.
According to a report Bloomberg, data from Taiwan's Council of Agriculture shows pineapple exports to Japan between 1 March and 30 June 2021 increased more than eightfold year-on-year to 16,556 tonnes.
Japan has now become the top destination for Taiwanese pineapples accounting for 70 per cent of exports up from 5 per cent in 2020. Hong Kong has also taken more pineapples from Taiwan, accounting for 23 per cent of exports in 2021, up from 2 per cent last year.
The Taiwanese industry also saw demand surge domestically as consumers look to support the industry rallied by a social media campaign to "save the farmers".
According to the report, restaurants added pineapple-infused items to their menus, meanwhile, the Taiwan Railways Administration introduced special lunch boxes featuring pineapples.
As a result, domestic prices of the fruit jumped 28 per cent to an average per kilogram in the March-June period, a three-year high and the total value of domestic pineapple sales jumped 17 per cent, according to Chen Li-i, an official at the Council of Agriculture.
"The bleeding was stopped before it even began," said Chen. "Higher prices driven by strong domestic demand led to more profit for the farmers."